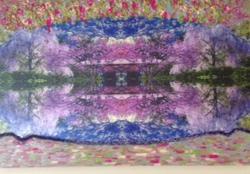 Creativity fuels people in different ways. For some, it is an emotional response, for others, it enables business challenges to be solved.
New York, NY (PRWEB) March 18, 2013
Mixed media continues to be an emerging art field. Collaboration is more common in the performing arts and IES wants to change how mixed media art is created and viewed. There are a handful of photographers like William Klein, as David Gonzalez said last week in the Lens section of the NYTimes blog, "whose creativity has been years ahead of others as a painter, photographer and filmmaker." But there still remains huge opportunity for artists to fill that void between realism and imagination, photography and 3-dimensional items and intelligence with the obvious.
Intelligent Entertainment Solutions has been teaching professionals how to infuse their business communications with story-telling and comedy in order to better connect with their colleagues and their clients.
But recently Linda Orton had an epiphany fueled by her love of art and her desire to help some very talented artists with little business experience. For years Linda, and her ex-husband, were art buyers and frequent visitors to art shows across the country. She spoke to artists and consistently realized how ineffective their marketing and business efforts were. It was frustrating for them and she believed she could help. It was the challenge between the creativity of the right brain and the business skills of the left brain that prevented some of these incredibly talented people from getting their art into the hands of buyers.
Linda is a serial entrepreneur, a left-handed writer who plays all sports, except frisbee, right-handed. In addition to her business pursuits, her current core company, Intelligent Video Solutions, creates and markets videos for professional firms and companies, her passion is stand-up comedy, art and photography.
She also realized that bringing unique art to clients was simply an extension of the visual stories she has been telling for years through her marketing and videos.
She gathered a group of friends, all of whom were talented artists with amazing vision but little business acumen, and they agreed to be represented by Intelligent Entertainment Solutions. When the decision to do Art Expo NY became clear, the creation of new pieces and marketing began. A traditional and digital campaign ensued to reach, not only the traditional art community these artists know, but additionally the professionals who Linda traditionally works with. IES hopes these people have the interest in learning about the art and also the means to acquire them. Their goal is to educate people at the exhibit area and share with them how and why these artists have created their art.
Photographers Erin Dinan (founder of OneSandwichAtATime.com), Robert Kalman (Principal in Westchester), James Gritt (Children's Soccer Coach) and artist, Jonathan Fritz (Full-time artist and teacher) are all excited to show their works in a commercial space. All have shown at smaller NY based art shows like Contrast, Modoma and the Empire Hotel in NY and in galleries in Brooklyn, Manhattan and in the Hudson Area, but none has taken out space at a major art show venue.
Creativity fuels people in different ways. For some, it is an emotional response, for others, it enables business challenges to be solved. A piece of art can help people focus, feel or communicate. IES wants to give that joy to people.