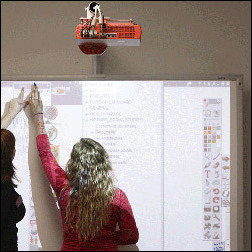 We wanted a system that provides our teachers with state-of-the art technology and that works with our curriculum
Sarasota, FL (PRWEB) December 12, 2006
Sarasota County School District in Florida voted unanimously last week to implement Promethean's new "Activboard+2" in all of the district's 3,300 classrooms. This will be a mainstay in NeXt Generation Learning through the 2007 school year, and as part of an overall equity initiative in classroom technology.
The new Activboard+2 consists of an interactive whiteboard, short-throw projector (a projector requiring only three feet of throw distance), an adjustable mount and integrated software programs enabling the delivery of hundreds of thousands of digital learning resources to each classroom. Because the Activboard+2 does not require ceiling-mounted projection equipment, implementing the all-in-one system is quicker and cheaper on the school district than traditional systems.
"We wanted a system that provides our teachers with state-of-the art technology and that works with our curriculum," said Mike Horan, Sarasota County Curriculum Director. "Our teachers are thrilled."
The Sarasota County School Board voted to implement the new Activboard+2's in phases starting with 1,050 classrooms immediately in Phase One, with two additional phases scheduled next year. Logical Choice Technologies, Inc, an authorized reseller for Promethean, provided the district with a comprehensive installation and professional development plan. Promethean's Teaching and Learning Consultants, who worked as K-12 classroom teachers in the past, will help with classroom, video, and online instruction.
Promethean President Mark Elliott applauded the Sarasota County School investment. "Their students now truly have the best teaching and learning technology available."
The Activboard+2 offers teachers two choices of lesson development software: Activstudio or Activprimary, a program designed specifically for early learners. Each solution interfaces with the internet and includes a built-in resource library containing thousands of images, interActive lesson Activities, maps, sounds, and lesson plan templates. Both software solutions have been proven to make lesson development quick, easy and multimedia-rich. Sarasota teachers will also have access to thousands of ready-made lesson plans, aligned to state education standards, in a searchable database at Promethean's user community and online resource center, Promethean Planet (http://www.prometheanplanet.com).
In contrast to traditional projection systems, Promethean's Activboard+2 includes an integrated short-throw projector co-developed exclusively for Promethean by Sanyo, the Japanese electronics company. The projector is mounted to the board by a strong steel arm positioned three feet away from the interactive whiteboard, operated by remote-control. The height can be adjusted to appropriate heights for users including those with disabilities. The projector also dramatically reduces the "shadow effect" that can distort content images on the board. A connections module allows teachers to link their computers to the board via serial or USB ports, or wirelessly using Bluetooth technology.
About Promethean
Developed by and for educators, Promethean is recognized in over 70 countries as a global leader in interactive learning technology. Its award-winning products help teachers prepare digital lessons quickly and with greater ease. This technology enables educators to integrate text, web, video and audio content, so they can easily capture students' attention and accommodate different learning styles. Promethean USA is headquartered in Atlanta, Georgia, with flagship headquarters in Blackburn, UK. For more information on its major products visit http://www.prometheanworld.com.
###