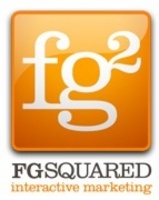 The reduced maintenance cost alone makes this a model worth implementing
Ferndale, WA (Vocus) October 14, 2009
Austin-based FG SQUARED, a full-service, interactive agency with a fifteen year history of delivering bottom-line results for Fortune 500 clients, has launched a new website that demonstrates how B2B companies can integrate social media platforms to increase web presence, lower operating costs, and maximize the SEO value of marketing assets.
FG SQUARED's new website, fg2.com , integrates multiple social media sites like Twitter, WordPress, YouTube, and Flickr, to create a single, unified user experience.
"The reduced maintenance cost alone makes this a model worth implementing", explains Steve Golab, CEO and Founder of FG SQUARED. "We think of it as a free Content Management System that spreads the content out across multiple social media networks, yet it is all visible in one place at fg2.com"
FG SQUARED decided to practice what they have been preaching to their own customers about how to ease into social media in a low risk manner. The interactive agency has been helping progressive brands experiment with social media projects with corporations like Royal Dutch Shell, Premiere Global Services, American Campus Communities, and University Federal Credit Union.
"We are constantly being asked about how B2B companies can benefit from the rapid proliferation of social media," comments Golab. "So we decided to use our own website as an example of what can be achieved."
The agency has already experienced some of the positive impact of their corporate website leveraging social media networks to house content. The following is a list of some of the benefits:

Increased Search Engine Visibility & Expanded Reach - Content loaded onto social media sites can be tagged for keywords and search engine optimization (SEO), ultimately bringing more targeted traffic back to the Web site.
Less Time & Lower Cost - Operational costs of maintaining a website are reduced, because the social media sites hosting the content are free platforms. Content uploaded to sites like Flickr, Wordpress, Twitter and YouTube can be integrated so that they will automatically update within the Web site, reducing the time spent maintaining a traditional Web site with fresh and relevant content.
Reduced Risk & More Trust - Some companies shy away from social media fearing that they will lack control of the conversations about their brand. Recent studies have shown that companies who maintain an active online presence are actually more trusted. A site integrated with social media gives the company a way to establish a social media presence in an incremental and deliberate way, while still maintaining a comfortable amount of control.
More Meaningful User Interactions - Since users can find content across a variety of social networks in addition to the primary corporate site, they are more likely to encounter content that is relevant within the context of their unique web usage preferences and habits.
FG SQUARED Social Media Sites:
twitter.com/fgsquared
flickr.com/fgsquared
facebook.com/fgsquared
http://www.youtube.com/user/FG2Squared
About FG SQUARED
Founded in Austin in 1994, FG SQUARED is a full-service interactive marketing firm merging experience, insight and agility to deliver powerful campaigns, tools and results. Focused on strategies that enable clients to strengthen customer relationships, increase revenue, and reduce costs, FG SQUARED's clients include Advanced Micro Devices, American Campus Communities, Hitachi, Shell Oil Co., Motorola, Premiere Global Services, and Callaway Golf. To learn more about how FG SQUARED creates compelling brand experiences through strategic consulting, web and interactive, design and production, and social media solutions, log on to fg2.com
Media Contact
Cynthia Baker
Accolades Public Relations
512.586.8278 (cell)
###