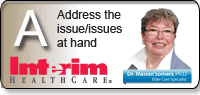 Sunrise, FL (PRWEB) June 25, 2013
Interim HealthCare, the nation's leading healthcare franchise company, has launched a new video series called Elder Care A to Z. These videos offer quick tips focus on the A to Z caring including discussing care with elderly loved ones. Topics ranging from A: Addressing the issue at hand to F: Financial Matters to Z: Zone out and reward yourself for a job well done.
"With over 65.7 million caregivers making up 29% of the U.S. adult population, Interim HealthCare realizes caregivers are faced with a lot of issues, in fact at least one for every letter of the alphabet," states Kathleen Gilmartin, CEO/President of Interim HealthCare Inc. "And with so many things to think about, it can be difficult to stay sane and organized throughout the caregiving process."
Interim partnered with Dr. Marion (Marion Somers, PHD) who has over 40 years of experience as a geriatric care manager, caregiver, author, and speaker to develop the Elder Care video series. Over a 26 week period Interim will be posting a new thought or reminder that can provide useful senior related information and perhaps a way to lift the spirits of a family caregiver. The videos can be viewed on their website at http://www.interimhealthcare.com/ElderCareVideos.
About Interim HealthCare:
Interim HealthCare®, founded nationally in 1966, is a leading home care, hospice and healthcare staffing company. Interim's more than 300 independently owned and operated franchise locations provide a variety of home health, senior care, hospice, palliative care, pediatric care and healthcare staffing services. Interim HealthCare is unique in combining the commitment of local ownership with the support of a national organization that develops innovative programs and quality standards that improve the delivery of service through franchisees who employ healthcare workers such as nurses, therapists, aides, companions and other healthcare professionals who provide 25 million hours of home care service to 190,000 people each year. For more information or to locate an Interim HealthCare office, visit http://www.interimhealthcare.com.