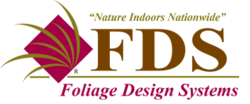 I think this is how people are going look at us
BIRMINGHAM, AL (PRWEB) March 06, 2013
Foliage Design Systems of Birmingham, a professional interior and exterior floral design company, are announcing the launch of their brand new website, http://www.foliagedesignbirmingham.com.
The new site beautifully showcases Foliage Design System's wide range of services. Whether it's designing floral blueprints, installation or the general maintenance of plants, the new website gives customers a better understanding of their business and photographs of their gorgeous work.
"It's functional, seems pretty simple, and it looks really well," said Raymond J. Osbun, president of Foliage Design Systems, about his companies new site.
Before launching this brand new site, Foliage Design Systems didn't even have a website and just by word of mouth and reputation, which is well recognized throughout Alabama. Now customers will be able to see FDS' work from their exceptional "See Our Work" page, which features a variety of photos and concepts of their work in different venues throughout Alabama.
"I think this is how people are going look at us," Osbun said. "That's how I do it. When I look at someone's website I will often times go through their gallery."
Foliage Design System of Birmingham has interior and exterior plantscape services for major companies at high traffic locations throughout Alabama, including the Birmingham-Shuttlesworth International Airport and Regions Bank. Furthermore, if there's one thing the University of Alabama and University of Auburn can agree on, it's having floral landscaping work done by FDS, which both have done.
FDS oversees the maintenance of all of the floral designs they install, including varying their species to highlight the seasons and holidays. Businesses of all kind rely on FDS for their unique interior plantscapes that liven up the rooms, foyers and entrances in which they are located.
About Foliage Design Systems of Birmingham: FDS is an interior and exterior plantscape company that services, businesses, universities and private homes throughout Alabama. Their work can now be seen at their newly launched website, http://www.foliagedesignbirmingham.com.