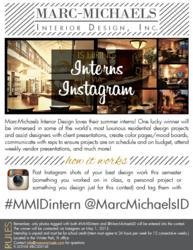 Winter Park, FL (PRWEB) March 19, 2013
Marc-Michaels Interior Design, Inc., the highly-awarded interior design firm, is hiring a summer intern to work at their Winter Park, FL location. The new intern will be selected on May 1, 2013, through a contest they are holding on the popular photo application, Instagram. One lucky winner will be immersed in some of the world's most luxurious residential design projects and assist top interior designers with client presentations.
The responsibilities of the intern will include creating color pages / mood boards, communicating with reps to ensure projects are on schedule and on budget, attend weekly vendor presentations and much more.
To enter the Marc-Michaels Interior Design, Inc. internship contest, students must post photos on Instagram of their best interior design work this semester. The photos can include projects worked on in class, a personal project or something students create just for the contest. All photos on Instagram must be tagged with #MMIDintern and @MarcMichaelsID in order to be considered.
Marc-Michaels Interior Design, Inc. will select a winner on May 1, 2013. The internship is unpaid and must be for school credit. The intern must be available to work 24 hours per week for 12 consecutive weeks.
Providing beautiful, comprehensive, full-service interior design is why Marc-Michaels is consistently recognized as an industry leader. The firm's diverse and imaginative portfolio has been featured in numerous publications, and has garnered over 400 national and regional design awards. For more information and to browse Marc-Michaels' beautiful design portfolios, visit http://www.marc-michaels.com.
Marc-Michaels Interior Design, Inc. is not endorsed or certified by Instagram. All Instagram logos and trademarks displayed are property of Instagram.