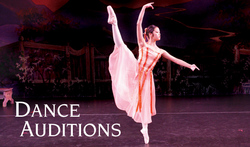 Interlochen, Mich. (Vocus) December 3, 2009
Dance faculty from Interlochen Center for the Arts will hold dance auditions in 14 North American locations throughout January and February 2010.
The auditions will include ballet, pointe and modern technique. Participating students will be considered for admission to either of Interlochen's world-renowned educational programs: Interlochen Arts Camp and Interlochen Arts Academy.
Interested students and their families are invited to attend these open calls. Interlochen dance faculty will be available to answer questions as well. No pre-registration is necessary. Required audition dress for girls is black leotards and pink tights. Boys should wear white T-shirts and black tights.
The winter audition tour will kick-off January 9 in Boston and continues through February 21, 2010 in New York City. For a complete tour schedule including dates, locations and audition times and fees please visit http://www.interlochen.org/dance2010/?WT.mc_id=DanceAud_PRweb_Dec09
The dance program at Interlochen Center for the Arts offers students the opportunity to develop and grow in a positive and focused environment. At Interlochen Arts Camp, students in grades 6-12 choose a program that emphasizes either ballet or modern dance. Each three-week session culminates in a public performance.
Interlochen Arts Academy, a fine arts boarding high school, engages students artistically and academically. A ballet-based curriculum with additional emphasis in modern and jazz techniques encourages dancers to be versatile performers. Students and faculty stage three fully-produced dance concerts each year. College-prep academics foster cross-disciplinary thinking to prepare students for any professional endeavor.
Interlochen Arts Camp and Interlochen Arts Academy are part of the nonprofit Interlochen Center for the Arts, recipient of the National Medal of Arts and the only organization in the world that brings together: a 2,500-student summer camp program; a 500-student fine arts boarding high school; opportunities for hundreds of adults to engage in fulfilling artistic and creative programs; two 24-hour listener-supported public radio stations (classical music and news); more than 600 arts presentations annually by students, faculty and world-renowned guest artists; a global alumni base spans eight decades. For information, visit Interlochen online at http://www.interlochen.org.
Media Contact:
Christopher Hintz
National Communications Manager
231.276.7608
###