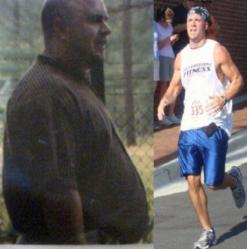 Intermittent Fasting has helped me keep off those 105 lbs of fat I lost
Atlanta, GA (PRWEB) September 20, 2012
"Intermittent fasting can sound very intimidating," says Mike Whitfield, CTT, who has used intermittent fasting with his clients as his number one approach with nutrition as well as practices it himself.
Intermittent fasting works so well because of the simplicity of it. A person can just take a break from food for 24 hours. That means they can still eat every single day.
I used this approach with Philip, a coaching client of mine, and he had amazing success. His secret was actually chewing gum and drinking lots of water during his fast. But more importantly, he discovered his emotional eating triggers, helping him improve his eating habits for life, which is what it's all about.
When I first approached Philip about using intermittent fasting, he had a look of horror. But when I explained that he could still eat every day and that the program was flexible, he was all in. We experimented with different start and stop times (another benefit of intermittent fasting) and he discovered what worked best for him was to stop eating at 6 PM and then resume the next day at 6 PM.
He did this once a week to start, and then after a few weeks, started to do it twice a week. 12 weeks later, he had lost 34 pounds and won $1,000 in a transformation contest. He only worked out three days a week as well.
That's the biggest advantage of using Brad Pilon's program, Eat Stop Eat. It's very flexible, unlike many other nutrition programs out there that banish carbohydrates, fats and even get as extreme as eliminating dairy and all grains.
Sometimes, those nutrition programs are a recipe for nutrition disaster. I'll be transparent. I used to try that approach when I first started training. My clients hated having to eat 5-6 meals a day. But the truth I later discovered was that eating 5-6 meals a day was certainly not necessary to get results.
In Brad's book about intermittent fasting, he reveals the myths of a slowing metabolism and muscles growing smaller when a person doesn't eat are indeed just that – myths.
Brad's book explains with proven science that the human body is much smarter than what most people give credit for. Eat Stop Eat is a very simple approach, and inside the book, Brad even explains how to not obsess about food and enjoy eating again.
That means long term success, which is what a transformation is all about. For more information about intermittent fasting grab a copy of Eat Stop Eat right here: http://eatstopeatdiscount.com/.