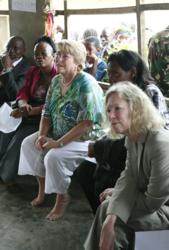 Today, on International Women's Day, we should re-dedicate ourselves to ensuring that every girl is educated, healthy, skilled, and empowered. Investing in their today is investing in our tomorrow.
Washington, DC (Vocus/PRWEB) March 08, 2011
Today marks the 100th anniversary of International Women's Day, a global celebration of women's contributions to the world. To mark the milestone, United Nations Foundation CEO Kathy Calvin joined UN Women Executive Director Michelle Bachelet on a listening tour with women and girls in Liberia -- home to Africa's first democratically elected female president and one of the first all-women peacekeeping units.
During the trip, Calvin and Bachelet have met with Liberian President Ellen Johnson Sirleaf, as well as other women and girl leaders, to learn what Liberia and the UN are doing to educate and protect the country's most vulnerable girls and young women. Expanding women's voice, leadership and participation is a priority area for UN Women, the newly formed UN agency tasked with accelerating progress in achieving gender equality and women's empowerment. Bachelet shared her 100-day plan -- and experiences from the field -- with reporters during a special teleconference today live from Liberia.
"What we have seen here in Liberia is emblematic of a global effort to improve our world by investing in adolescent girls," Calvin said. "One of the most powerful figures in determining the shape of our world today is an adolescent girl, who is part of the largest youth generation in history. Today, on International Women's Day, we should re-dedicate ourselves to ensuring that every girl is educated, healthy, skilled, and empowered. Investing in their today is investing in our tomorrow."
Since its founding more than a decade ago, the UN Foundation has identified addressing the needs and concerns of women and girls as one of the keys to solving the world's most challenging problems. Empowering women and girls is essential in the global drive to eliminate poverty, achieve social justice and stabilize the world's population, and is critical to the achievement of the UN's Millennium Development Goals (MDGs).
While women have been elected to government leadership roles in every country and 67 countries have laws mandating equal pay, many problems still remain.

Up to 70 percent of women experience violence in their lifetime.
Two-thirds of illiterate adults worldwide are women.
Women constitute the majority of HIV-positive adults in sub-Saharan Africa, North Africa and the Middle East.
The UN Foundation is a leader in bringing together the UN, NGO and private sectors to focus attention and resources on women and adolescent girls. The Foundation has pioneered innovative programs -- including initiatives for improved maternal and child health and for cleaner cookstoves and -- on behalf of enhanced health, rights and livelihoods for women and girls. Most recently, it launched Girl Up -- a "for girls, by girls" campaign that helps American girls channel their energy and compassion to raise awareness and funds for UN programs supporting their sisters in the developing world.
To learn more about what you can to help the world's women and girls, visit http://www.unfoundation.org/iwd.
About the United Nations Foundation
The United Nations Foundation, a public charity, was created in 1998 with entrepreneur and philanthropist Ted Turner's historic $1 billion gift to support UN causes and activities. We build and implement public/private partnerships to address the world's most pressing problems, and work to broaden support for the UN through advocacy and public outreach. Through our campaigns and partnerships, we connect people, ideas, and resources to help the UN solve global problems. These campaigns focus on reducing child mortality, empowering women and girls, creating a new energy future, securing peace and human rights, and promoting technology innovation to improve health outcomes. These solutions are helping the UN advance the eight global targets known as the Millennium Development Goals (MDGs). For more information, visit http://www.unfoundation.org.
###