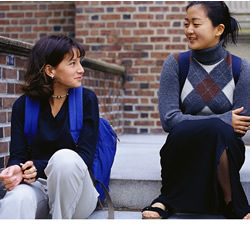 We find more schools are recommending Study USA, or allowing it to be substituted for a more costly recommended plan
Walnut Creek, CA (PRWEB) August 10, 2007
International Students attending college in the U.S. must adapt to a great deal: Living within a different culture, communicating mainly in English, and expenses galore. With tuition, fees, books, lodging, and daily living expenses, a college student quickly learns how to live on a tight budget, and eats his share of pizza and mac and cheese. Any savings can help, like buying low-priced international student health insurance that can be a better value than many other plans. Study USA-HealthCare, known for its low rates, is having its best month ever for enrollment according to plan creator Travel Insurance Services, specialists in international medical insurance plans for over thirty years.
For the past six years, the word about the low price and the generous coverage of Study USA-HealthCare has spread among the international student and study abroad communities in the U.S. No giant fanfare, just one student telling a friend, mentioning it at his international student association gathering, or telling his international student advisor. Now, thousands of students rely on Study USA for their coverage.
Avinash Srinivasan, student at Florida Atlantic University said, "I will continue with the Study USA-HealthCare Insurance as long as I am going to school. A fellow student sent an email to everyone on his contact list telling us that this is great insurance. I will be doing the same thing as well, because I am so happy with the rates."
Rates for Study USA start at $39 a month - depending on the student's age and plan selected. Rates for other international student plans can be significantly higher, usually at least $60 a month. And some schools require enrollment in their domestic students policy. These can be pricey - starting at about $1200 and up for 12 months of coverage.
Study USA-HealthCare offers high coverage limits for the price and often meets a school's requirements for coverage, as it does the Department of State's student J1 visa regulations, and recommendations of NAFSA. "We find more schools are recommending Study USA, or allowing it to be substituted for a more costly recommended plan," said Kevin O'Neal, President of Travel Insurance Services.
Study USA-HealthCare is underwritten by The Insurance Company of the State of Pennsylvania, a member company of American International Group, Inc., world leaders in insurance and financial services, rated 'A+' (Superior) for financial strength by A.M. Best.
Travel Insurance Services (TIS) is a nationwide insurance brokerage that has met the insurance needs of travelers for 34 years. It develops, markets and administers travel insurance and international medical policies for individuals, families, groups and businesses. TIS is a USI Affinity Company, a division of USI Holdings Corporation (USI). USI is a leading distributor of insurance and financial products and services to businesses throughout the United States. USI is headquartered in Briarcliff Manor, N.Y., and operates out of 66 offices in 18 states.
###