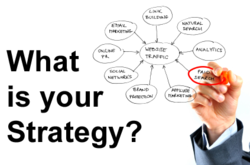 It's not magic, its science, and understanding algorithms, and we've figured it out.
milwaukee, WI (PRWEB) August 23, 2012
Times they are a changin', as Bob Dylan once wrote. It used to be that if someone owned a business and wanted to promote their brand, all they had to do was purchase an ad in the Sunday paper, plaster their name on a billboard, buy a yellow page ad, and get a spot on the local radio station. Today, however, traditional media has been losing share to the new advertising medium, the internet. And in order to compete is this new realm a business will need some new strategies. Fortunately, Brew City Marketing, located in Milwaukee, WI, offers strategies for internet marketing Milwaukee companies need to compete in the online world.
Often enough, business owners mistakenly think that online marketing will eat away too much of their time. "There is a great deal of time and effort involved in developing a solid web presence," says owner Mark Dalnodar. "But, when implemented strategically, internet marketing tactics produce a high volume of measurable results." Brew City Marketing does not deny that there is a great deal of effort involved in cultivating a web presence they simply offer to do it for the business.
Brew City Marketing has developed an internet marketing mix that is specifically geared towards local businesses in Milwaukee looking to dominate the search engines for local searches. "We have launched, tested, re-launched and retested all the different internet marketing tactics and can safely say, we have found the golden key," says Dalnodar. "It's not magic, its science, and understanding algorithms, and we've figured it out. We work to grow and maintain the businesses online presence through multiple proven tactics."
If spending hard earned dollars on traditional marketing, advertising, print media, is still not getting the expected results, then it's time to change with the times. Contact Brew City Marketing at (414) 208-0700 or visit http://brewcitymarketing.com/ to get rejuvenate the business internet marketing.
To read more about what Brew City Marketing can do, please read their previous press release.