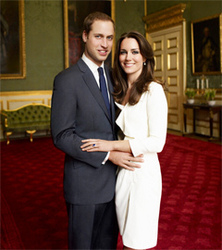 Prince William and Kate Middleton's wedding is costing the British public 96p per person.
London, UK (PRWeb UK) April 20, 2011
Typically, the occasion has added fuel to the cynical fires of economic onlookers, resulting in blame inevitably landing on the laps of our financially blessed monarchy. Elevatelocal's "The Royal Wedding – who is footing the bill?" study takes a candid yet light-hearted look at who is actually paying for the wedding, and by how much. Although it becomes apparent that the public will pay for a share of the proceedings, the info graphic reassures us that our individual bill is small, and the benefits in moral we will reap, will be all the more worthwhile.
Using research from reliable U.K and U.S press sources, definite contributors to the royal wedding can be distinguished, and other possible financial inputs can be added into the mix. By doing this, one can assess the scale and technicalities of the financial surroundings of the wedding in an informative, yet simplified way. The contributors of the wedding can be split up into four basic categories: "The royals, the parents (referring to those of Kate Middleton's), the council (of Westminster) and the government. Their input can be cross-analysed and constantly considered in respect to the public. How much of their respective income is supplied by us?
Considering this, predictions of 1 GDP can be made into individual public spend of the wedding, which can be seen as an encouraging figure to more optimistic characters.
When the individual cost of the public is revealed, focus can then turn towards the public's possible return of investment from the wedding. Not only will it inject £620 million into the U.K. economy (predominately through tourism), it will more importantly and ironically help towards relieving the public's all too familiar monetary hardship - maybe not completely in the financial context, but certainly in relation to the extensively dwindling optimism of U.K. society as a whole.
As the infographic softly states:
"In this time of economic hardship, the British people deserve a festival of unity and goodwill to increase national morale. Bank Holidays and Street Parties across the land will undoubtedly do this. In our current situation, we think the value of this alone is priceless".
Considering the its results, it can be assumed that the UK public will think that spending under £1 for a break from the dreary norm will certainly seem like a worthwhile investment to them.
About Elevatelocal
Founded in 2010, Elevatelocal is a forward-thinking internet marketing agency internet solutions for a diverse client base across four core areas - website design, search engine optimisation (SEO), pay per click marketing (PPC) and social media marketing.
Sources:
Channel 4 - Prince William and Kate Middleton's wedding: 16.11.10
DailyMail - Kate Middleton's parents to fork out £100,000: 6.3.11
British Monarchy - Civil List Report 2009
Contact:
Sam Garrity
Sam.garrity(at)elevatelocal(dot)co(dot)uk
http://www.elevatelocal.co.uk
Elevatelocal Ltd
Unit 57 Basepoint Innovation Centre
Metcalf Way
Crawley
RH11 7XX
United Kingdom
Tel: 01293 265 370
###