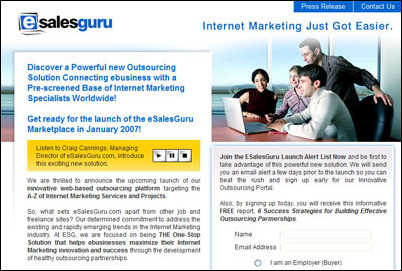 Outsourcing has become a practical necessity for many new and existing web businesses attempting to operate an effective full service Internet Marketing platform.
(PRWEB) December 7, 2006
Craig Cannings today unveiled ESalesGuru.com, an innovative outsourcing portal specially designed by Internet Marketing Professionals, for connecting entrepreneurs and ebusinesses with a skilled pre-screened base of Internet Marketing Specialists worldwide.
Veteran web business owners and professionals can attest first hand to the mind-boggling evolution that has taken shape in the Internet Marketing Landscape since the late 90s. The shift from cool looking but highly ineffective banner ads to such emerging technologies as Social Search, Blog Marketing and Mobile Media has provided diversely creative opportunities for delivering targeted marketing messages to the right audience.
These are exciting times for those working in the Internet Marketing space, but it will also present some daunting challenges for ebusinesses striving to keep pace with the present light-speed movement of this high paced industry.
Many ebusinesses are experiencing continual skill and service gaps in their Internet Marketing efforts. The challenges and expense of hiring diversely skilled Internet Marketing Specialists in-house has many businesses exploring other options to meet their growing needs. Craig Cannings, owner of http://www.ESalesGuru.com, reported: "Outsourcing has become a practical necessity for many new and existing web businesses attempting to operate an effective full service Internet Marketing platform."
He added, "In order for many web companies to remain cost-effective, current and competitive in their online marketing endeavors, they must consider outsourcing as a vital tool for meeting their evolving needs."
At ESalesGuru.com, businesses can post an unlimited number of projects and receive competitively priced quotes from Internet Marketing Firms/Specialists across the following skill areas:
Affiliate Marketing Management
Search Engine Marketing
Website/ Landing Page Design
Advertising Design
Online Marketing Copywriting
Online Media Buying/Planning
Online Lead Generation
RSS / Email Marketing Services
Blog / Viral Marketing
Internet Market Research, Analysis and Planning.
Social Networking/ Mobile Media
ESalesGuru also provides a complete web-based project management and communication tool that enables Internet Marketing Professionals and Employers to effectively track their project activity, ongoing correspondence and billing activities.
Cannings also sees an increasing number of Internet Marketing companies emerging to address the growing demand for these niche skill sets. He pointed out, "There are many Internet Marketing Professionals and firms that will use ESalesGuru as a powerful channel for building their client base and growing their revenues. The freelancing opportunities for skilled Internet Marketing Specialists are endless."
Cannings emphasized that ESalesGuru is committed to watching the emerging Internet Marketing Trends and continuing to update and recruit professionals in new areas. "The focal point of our business is to simplify the Internet Marketing process by providing a cost-effective one-stop solution for ebusinesses, both small and large to maintain a current, competitive and cutting edge Online Marketing Platform."
This new web service is slated to launch in January 2007. However they are allowing business owners and service providers to register for the launch alert as well as, get a FREE copy of an exclusive report titled "6 Success Strategies for Building Effective Outsourcing Partnerships."
For more information about the eSalesGuru outsourcing solution, please visit http://www.esalesguru.com.
Media Contact:
Craig Cannings
Esalesguru Ventures Ltd.
Ph: 250-434-4480
# # #