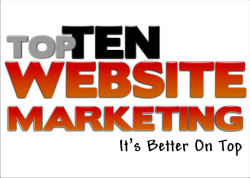 We Show Proven Results To Our Clients
Hollywood, FL (PRWEB) September 27, 2012
HOLLYWOOD, FL. – September 27, 2012 – Since the Industry of Internet Marketing and Search Engine Optimization is constantly changing and ever-evolving, and everything is constantly becoming more competitive and more difficult to remain on top, some may find it difficult to keep up with the latest and most effective techniques. Top Ten Website Marketing, however, makes sure to conduct intricate research on a regular basis and always remain up to date with all the different changes and newest methods, such as this new technique of using proprietary ranking strategies and the monitoring of Search Engine Algorithms to provide their clients with the best, most effective services possible. All of their strategies combine to create excellent pathways to building quality links, customers, and website traffic for this Internet Marketing Company's clients' websites.
Top Ten Website Marketing does everything they possibly can to provide the absolute optimum results for their clients. They offer a vast array of services ranging from the writing and publishing of Press Releases and the building and maintaining of clients' websites, to altering websites to be more "Search Engine Friendly" and, of course, conducting their Search Engine Optimization services. Again, always with their client's satisfaction, success, and R.O.I. (Return on Investment) in mind, the experienced, highly qualified, trained, and skilled staff at Top Ten Website Marketing always keeps up with the ever-changing Internet Marketing realm and implements the absolute best techniques available, such as these new methods involving Search Engine Algorithm Changes.
"Many of our clients have seen substantial rises in quality, targeted traffic on their websites, and increases in business and overall success due to these new Algorithm techniques, in addition to our regularly offered services." With the immense growth, advancement, and improvement in everything involving technology, Internet Marketing, and Search Engine Optimization, one must be sure that the Internet Marketing Company they choose is not only adept and proficient, but also willing to constantly evolve to keep up with the times, as the times constantly change. No matter what the technique, Top Ten Website Marketing promises to keep their clients at the very top, doing whatever necessary to provide them with nothing but the absolute best service, assistance, and support.
Media Contact
Pete Pekofsky
web(at)metroseo.net
305-970-5699
http://www.top-ten-website-marketing.com