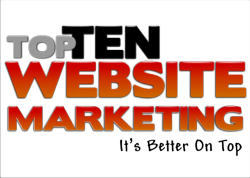 It's Better On Top
FORT LAUDERDALE, FL (PRWEB) November 30, 2012
The news that strong Key Word Selection and up-to-date Page Content will continue to be of critical importance is welcomed by Top Ten Website Marketing, a reputable Florida-based Internet Marketing and Local SEO (Search Engine Optimization) company, who have always stressed Key Word Selection techniques and employs superb writers to keep page content up-to-date, and produce striking Press Releases. Top Ten Website Marketing will further re-fine and enhance their winning SEO techniques, in the interest of their clients, giving them consistently higher visibility, and greater Page Ranking, which clients turn into progress and growing revenue.
Top Ten WebsiteMaketing, as it spreads its wings across America, proudly carries a proven track record of benefiting all of its clients tremendously, through creative S.E.O. and transparent Internet Marketing. The company keeps up with the newest trends in the industry, while adhering tightly to the Guidelines of Google and the newest Google algorithm changes. Clients have repeatedly said that their businesses are gaining higher visibility by appearing on page one of Google and other Search engines, and thank Top Ten Website Marketing for providing such a great service. Top Ten Website Marketing reports on a monthly basis to clients, explaining their Page Ranking and discussing their Key Word Needs, and acting immediately on them. Google's Page Ranking is an indication of the importance of a client's website or web page. By creating exciting, accurate content, the site owner entices others to link the ste's content. This increases the in-bound traffic and links to the web site, thereby increasing page rank.
As the world enters the Post P-C Age, with millions more users at center-stage, there is absolutely no doubt about the critical importance of every company making Search Engine Optimization the foundation of its Internet Marketing strategy. This is exactly what the A-Team at Top Ten Website Marketing has been recommending to their clients, and with great success; clients who followed the Top Ten Website Marketing advice, experienced higher visibility of their own web footprints, quickly generated website traffic and converted that traffic into solid customers.
Search Engine Optimization and Internet Marketing are not one-time events; results take time, especially for small new companies, long-term outlook and commitment, by both client and marketing agency, as productive key factors, are always required. In spite of that, Top Ten Website Marketing, by customizing services to fit the needs of each client, is able to give tremendous exposure and target the correct audience each and every time, ensuring increased prominence and steady client progress.
Another one of Top Ten Website Marketing's strong advantages, as a internet marketing agency, is the quality and depth of its collaborations with both clients and relevant agencies within the marketing industry. Reporting page ranking and other developments to its clients on a timely and regular basis, supplying fresh, useful, relevant, dynamic and interesting website and page content, mastering the Key Word Strategy, listening to clients' perspectives, and immediately solving their problems, are other precious hallmarks of this very creative company.
Adopting an ethical and deception-free approach, Top Ten Website Marketing delivers an affordable range of packages. From vital One-On-One Personalized Consultations, Search Engine Friendly Website Development, to the Local listings "Power Listings" Package, all services are presented with finesse, and with client satisfaction as top priority. Other services include: Search Engine Optimization (S.E.O), PPC (Pay Per Click) Management, Website Development, Website Maintenance, On Line Press Releases, Article Writing, Link Building. View their website for further important details and client testimonials.
Media Contact:
Pete Pekofsky
Top Ten Website Marketing
Phone: 305-970-5699
http://www.top-ten-website-marketing.com