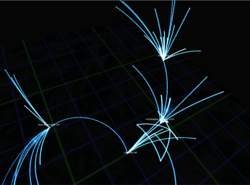 This could change the way we view the internet forever.
(PRWEB) March 06, 2013
Utilizing the latest 3D gaming technology, users of the new software called Plus Three could soon have the ability to create 3D maps of their websites. "These 3D maps will allow you to plan your site's structure, track changes, and instantly respond to unexpected events," said Teal Rogers, Owner and Lead Developer at Trinary Software. Here is a link to the Kickstarter project.
Kathryn Carothers, Resource Manager at Trinary Software, is excited about what this software could mean for the future of web development, saying, "This could change the way we view the internet forever."
This project, which is currently in the early stages of development, is attempting to raise money using the emerging field of crowd funding. Crowd funding relies on many small donations rather than fewer large ones. The people who donate are often given a unique prize for donating.
In the case of Plus Three these prizes include free access to the private beta release of the software, but there is a catch: The campaign will only be active for the next 30 days. If you miss it, you'll have to wait for the official release before you can map your site.
"Mapping the internet in 3D is something that has rarely even been attempted, but can be extremely useful. We've already seen significant advances in the way we develop and manage our own sites," claimed Rogers.