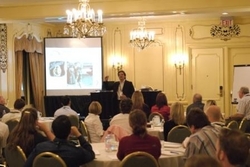 We are running this contest to connect with industry professionals and share top SEM strategies with the online marketing community. Our goal is to deliver expert search marketing training to all skill levels and provide insight on industry advancements and trends
San Francisco (PRWEB) May 8, 2008
Pay Per Click Summit internet marketing workshop leader, announced the call for entries for the Best Search Marketing Strategy, a contest for internet marketers to submit their most effective ROI producing strategy or technique. The winner will receive a free pass to PPC Summit San Francisco May 19-20 or Los Angeles Sept. 25-26 where they will meet industry experts from Microsoft, Business.com, Yahoo!, Google and more as they present on Successful Pay Per Click and Search Marketing ROI Techniques.
PPC Summit's Best Search Marketing Strategy Contest is designed to recognize successful real world Search Marketing techniques for increasing ROI. People are invited to submit their best technique or strategy on the contest form located here: http://www.surveymonkey.com/s.aspx?sm=ni1n_2bjYybQuH4PKJaaumqA_3d_3d
Submissions should describe the best strategy/tip used and the effects on the Search Marketing campaign. PPC Summit will choose one overall contest winner and present them with a free pass to PPC Summit San Francisco or Los Angeles. The winner will have the opportunity to learn from the PPC Summit expert trainers about Pay Per Click hot topics and expert strategies to search marketing success.
PPC Summit is a two-day educational workshop that connects internet marketing experts with business and marketing professionals seeking knowledge on how to successfully set up and run search marketing advertising campaigns. Attendees gather to learn important aspects on how to increase their website sales and online marketing ROI. Attendees have the opportunity to network with colleagues and the expert trainers while learning insider strategies for internet sales success.
"We are running this contest to connect with industry professionals and share top SEM strategies with the online marketing community. Our goal is to deliver expert search marketing training to all skill levels and provide insight on industry advancements and trends," said Mary O'Brien, PPC Summit CEO. "Whether the goal is to increase marketing ROI, expand online customer reach or gain more customers, PPC Summit offers the latest information to help individuals gain more customers online at a lower cost per acquisition." said O'Brien.
PPC Summit teamed with the following Search Engine Marketing blogs to host the contest: Clix Marketing, SEOmoz, Search Engine Guide, Web Marketing Association, Search Engine Marketing Association of Portland (SEMpdx), SEMvironment Blogation and SEM Geek. Each entrant is required to submit a couple of paragraphs describing how they increased their search marketing ROI. They will be judged on how their search engine marketing campaign positively impacted their marketing ROI. One winner will be selected. All entries must be received by Monday, May 12, 2008 (5:00 p.m. Pacific).
Seats are filling up for PPC Summit San Francisco (May 19-20) and Los Angeles (Sept. 25-26). All interested participants should register http://www.ppcsummit.com/overview.html?PRWEB7 by May 12th to get the early bird $200 savings in San Francisco.
Contact:
Kelly Larsen
press @ ppcsummit.com
Marketing Manager
PPC Summit
(360) 554-9683 ext. 707
###