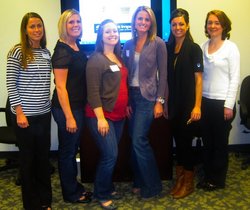 Chesterfield, MO (Vocus) November 5, 2010
Internet marketing agency, The Net Impact, recently held a Search Engine Strategies Seminar at their Chesterfield, Missouri office. The presentation titled "Five Emerging Internet Marketing Trends to Boost Business in 2011", included information learned at the Search Engine Strategies Conference in San Francisco this past August.
"The SES presentation hosted by The Net Impact was exceptionally helpful in terms of helping me and other attendees stay abreast of the ever-changing landscape of social media. I'm impressed with the expert knowledge The Net Impact's staff has acquired and the investments they continue to make to remain ahead of the curve in this space. I look forward to more such seminars," said Barry Gleeson, Marketing Solutions, Inc.
This past September, five members of The Net Impact's Internet marketing team crossed the Golden Gate Bridge to attend the 2010 Search Engine Strategies West Coast Conference. The Net Impact's Internet marketing team always returns from these leading search and social media marketing events with new ideas and approaches to share with clients and others in the industry. The search engine marketing seminar was the fourth educational event The Net Impact held at their office.
Topics covered at the Internet marketing informational night included: local search (Lauren Williamson, Web Account Manager); social media marketing (Angela Trokey, Web Account Manager); mobile marketing (Mandy Christanell, Project Manager); writing compelling content Web Account Manager, Sonya Sawall); and press release optimization (Lauren Pesko, Internal Marketing Manager).
"Thanks for sharing the latest news, insights and best practices gained from your attendance at the 2010 SES Conference in San Francisco. I particularly appreciated the information related to leveraging social media, as well as the most recent advancements with Google Local. I value the expertise of the TNI team in helping marketers effectively leverage the power of the Internet. Keep up the great work," said Maurice Parisien, Marketing Strategist, OpusOne, LLC.
Subscribe to The Net Impact's monthly newsletter to get information about upcoming events and the latest web design and Internet marketing news.
About The Net Impact®
The Net Impact, a full service Internet marketing and web design, is a division of Unidev®. Since 1997, The Net Impact has been a web development leader, empowering clients with highly creative search engine friendly websites. Professional services encompass search engine optimization and Internet marketing solutions, Internet strategy development, training and seminars, social media marketing and design, and web design and development. For more information on The Net Impact, please visit http://www.thenetimpact.com, or call (888) 629-4672.
# # #