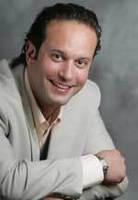 Boca Raton, FL (PRWEB) November 1, 2010
Internet marketing author and social media speaker, Jay Berkowitz, was asked to be a guest lecturer at New York University. His presentation covered the crossroads of search marketing and social networking. Jay Berkowitz taught the students the many ways to impact search engine performance from a personal and business perspective.
"Jay Berkowitz enlightened our NYU Social Media Class about the influence of social on search," explained Ruben Quinones, NYU Adjunct Instructor. "Jay is a thought leader in the online marketing community. His credentials include presenting at conferences like the Direct Marketing Association, American Marketing Association, Affiliate Summit, Ad-Tech, The CEO Roundtable and Pubcon."
About Ten Golden Rules
Ten Golden Rules is an interactive marketing agency founded by Jay Berkowitz based in Boca Raton, Florida. This search engine marketing, social media and strategic consulting agency helps companies develop programs to generate website traffic, convert traffic into leads and sales, and improve their Internet marketing strategy. The firm works with clients to target their audience with marketing and social networking. The 10 Golden Rules Internet Marketing Podcast is available at Podcast.TenGoldenRules.com and on iTunes. For more information please visit TenGoldenRules.com.
About Jay Berkowitz
Jay Berkowitz has been recognized as one of the top social media speakers at many popular national and international conferences as well as a highly respected Internet marketing author. His presentations cover topics such as web site marketing tips that help with promotion and ranking in search engines to generate more business for companies online. Mr. Berkowitz author of "The Ten Golden Rules of Online Marketing," is also an active blogger, podcaster, and Internet strategist. He developed the University of San Francisco's Internet Marketing Masters Certificate program and is the founder of http://www.InternetMarketingClub.org. He has managed marketing departments for Fortune 500 brands: McDonald's Restaurants and Coca-Cola, and has managed online and offline programs for AT&T, Sprint, and leading health and fitness website eDiets.com. Mr. Berkowitz has received numerous awards including a SOFIE Award for Best Use of Emerging Media, a Special Bernay's Award and the Gold Medal from Women in Communications.
###