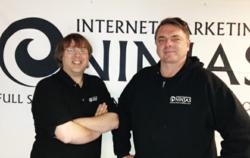 I am very honored and excited to become part of a world class Internet marketing team - Chris Boggs
Clifton Park, New York (PRWEB) February 06, 2013
Leading online marketing firm, Internet Marketing Ninjas (IMN), has hired Chris Boggs as their Chief Marketing Officer. Collaborating with the leadership team, Boggs will help grow and further define processes and long-term client deliverables.
Over the past 12 months the company has rapidly expanded its pool of talent and company owned properties through several noteworthy acquisitions. In 2012, led by owner and CEO Jim Boykin, Internet Marketing Ninjas acquired from Ziff Davis the Developer Shed network of websites. The Cre8asiteForums, WebmasterWorld, and Threadwatch were also acquired by IMN. The company's executive staff includes Chairman Kris Jones, Community Manager Ann Smarty, Usability/Conversion Analyst Kim Krause Berg, and Senior Marketing Analyst Joe Hall.
Boggs has joined the team after departing from his most recent position as Director of the Search & Media Thought Leadership Team at Rosetta. He also served as president of the Search Engine Marketing Professionals Organization (SEMPO, Inc.) from 2010-2012 and continues at SEMPO, Inc . as Chair of the Board of Directors.
"I am very honored and excited to become part of a world class Internet marketing team, led by my old friend and one of the world's top SEOs, Jim Boykin," said Boggs. "Working with the IMN highly talented leadership team, and with all the other in house ninjas, in an environment that produces unquestionable marketing results for clients, is such an exhilarating experience for me!"
"Chris is an all-star in this industry, and a longtime friend," said Boykin. "Having Chris right down the hall from me will be great. He will be training our Ninjas, bringing new ideas to the table, and working with the executive team to help ensure Internet Marketing Ninjas continues to deliver industry leading results."
About Internet Marketing Ninjas
A results-driven company, Internet Marketing Ninjas (IMN) is dedicated to helping clients improve conversion, brand marketing, and website traffic. Established in 1999 as We Build Pages and currently located in Clifton Park, New York, the Internet marketing company is led by Founder and CEO Jim Boykin. As one of the most influential and fastest growing Internet marketing companies, IMN employs over 100 internally trained marketing ninjas specializing in link building, SEO analysis, content development, reputation management, social media marketing, and conversion optimization.