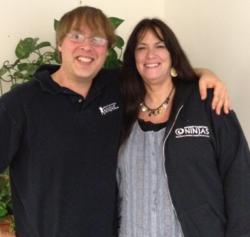 To have the opportunity to work with the Cre8asiteforums community alone is such a privilege, but to have Kim Krause Berg on board as well is a dream come true. - Jim Boykin, CEO of Internet Marketing Ninjas
(PRWEB) October 02, 2012
Internet Marketing Ninjas acquires Cre8asiteforums & welcomes founder and lead administrator, Kim Krause Berg to Internet Marketing Ninjas' executive staff as their Usability and User Experience Analyst.
"To say I'm thrilled would be an understatement," said Founder and CEO of Internet Marketing Ninjas, Jim Boykin. "To have the opportunity to work with the Cre8asiteforums community alone is such a privilege, but to have Kim Krause Berg on board as well is a dream come true. I consider her the world's leading usability analyst. Kim was already a legend when I started in 1999 and I have the utmost respect for her and the Cre8asiteforums community."
Krause Berg will be joining the company's executive staff as their Usability and User Experience Analyst, and also continue as Cre8asiteforums Administrator. As a member of the Internet Marketing Ninjas team, Krause Berg will be instrumental in helping clients to improve on-site usability, increase conversions and strengthen their overall profitability.
As the founder of Cre8pc.com and Cre8asiteforums, Krause Berg has been involved in Internet marketing and website usability since 1996. As one of the earliest pioneers of the online marketing community, a frequent conference speaker and popular industry blogger, she has worked with countless websites over the years, focusing on user behavior and conversion optimization.
In her new position, she will continue to be the administrator and community manager of Cre8asiteforums, stating:
"For years I've visualized what I felt would be the perfect next step in my career, but I feared I was imagining an impossible situation. I turned down countless opportunities; because none fit what I knew would be best for my skills, desire for growth in Human Factors and never ending passion for Internet marketing. I also stubbornly, and against all professional advice, required that wherever I go, I wanted Cre8asiteforums with me. I could never abandon that community," said Krause Berg
With Internet Marketing Ninjas, she will get her wish. "Working with Kim to invest in and grow the Cre8asiteforums community is an honor; it's two amazing acquisitions in one and I feel even luckier than usual," said Boykin, regarding the new partnership. "I'm excited to have the opportunity to listen to what the community would like and to allocate our resources into taking that community to the next level"
Boykin also recently acquired the Developer Shed Network of websites and continues to offer a wide range of SEO and Internet marketing services through Internet Marketing Ninjas.
Krause Berg will also be working with IMN's analytics team to perfect their website analytics process and add a new dimension of persuasive design to website conversion and SEO analysis. "When Jim Boykin surprised me by making the exact job and career offer I wanted, I immediately accepted." Krause Berg notes. "By adding advanced usability and Human Factors methodology to his present extraordinary analytics team, Internet Marketing Ninjas not only meets stringent search engine requirements, but now exceeds in meeting all their clients' user experience needs and expectations. This, and his intuitive understanding of the value of online communities, puts me over the moon excited."
The Internet Marketing Ninjas are delighted to add another SEO thought leader to their roster and to continue to improve their services to clients and contributions to the entire internet marketing industry.
About Internet Marketing Ninjas
Internet Marketing Ninjas is a full service internet marketing company based in upstate New York. Founded in 1999 as We Build Pages by CEO Jim Boykin, the company consists of specially trained ninjas with expertise in link building services, social media, SEO analysis, and content development. Internet Marketing Ninjas is a results-driven business focused on search engine visibility, user engagement and driving relevant traffic to websites. Boykin also recently acquired the Developer Shed Network of websites and forums, including SEO Chat and Dev Shed. This network provides a wealth of information and instruction related to SEO/SEM best practices, web design, and programming.
About Kim Krause Berg
Founder and owner of Cre8pc.com and Cre8asiteforums.com, Kim Krause Berg has a strong background in SEO and website usability. Her unique skill set distinguishes her as an industry leader and provides her clients with unparalleled results in terms of website usability and user experience. Krause Berg is a member of several industry organizations, including The American Society of Information Science and Technology, the Information Architecture Institute, and the Usability Professionals Association. She has moderated several industry forums and groups, including SearchEngineStrategies LinkedIn Group, and has written for popular industry magazines, including Search Engine Marketing Standard and Website Magazine. Today, Kim has melded her SEO and usability skills to increase traffic, rank, and gradually increased sales for her clients.