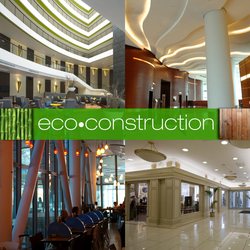 Attending Eco•Construction 2009 will help you shape the future of your organization. A future that will reward you for embracing innovation and new thinking
Portland, ME (PRWEB) January 21, 2009
IntertechPira, a global provider of high-value content services to users and producers of packaging, performance materials, chemicals and organic based technologies, announced the 2009 Eco•Construction Conference. This inaugural conference for the green building industry will focus on hospitality and retail. The conference will take place April 21 - 22, 2009 in Chicago, IL at the Embassy Suites Downtown Chicago/Lakefront Hotel.
At the Eco•Construction conference, you will hear case studies from end users, retailers and hotel chains about their experience with green building and how to achieve carbon neutrality. "Attending Eco•Construction 2009 will help you shape the future of your organization. A future that will reward you for embracing innovation and new thinking," says Barbara Rojas, Conference Producer, IntertechPira. "You will learn what materials and lighting options are available and best suited for keeping the environment and your costs controlled at the same time."
With over 20 illuminating presentations lead by industry experts, the 2009 Eco•Construction conference is a unique opportunity to connect with peers. Eco•Construction 2009 will provide access to global industry leaders and allow for networking opportunities and building new connections through evening cocktail receptions and breaks. Also, participants will gain an understanding of the emerging trends in the green building industry as it pertains to the hospitality and retail sectors.
With presentations from the leading industry experts H-E-B, The Carbon Neutral Company, Lucifer Lighting Company, Next Life, Green Building Services Inc., Choice Hotels, TurnKey Concepts, EMSI, CAO Group and the Head of Sustainability for the London 2012 Olympics, this conference is the place to be.
IntertechPira is proud to announce Peter Braithwaite, Head of Sustainability of the London 2012 Olympics, will be speaking on the London 2012 promise, the sustainable development strategy, how the strategy is being developed and the progress thus far. The most high-profile event in the world, the Olympic Games, gives the green building industry a chance to show how changes in the way we build leads to better use of the planet's resources.
Conference Registration
Learn more by visiting Eco•Construction 2009 online or call Michael Robert at +1 207 781 9631 or email michael.robert@pira-international.com
Accommodations
Speakers and delegates are responsible for booking their own travel and accommodations. A limited number of rooms have been reserved at the Embassy Suites Chicago - Downtown/Lakefront Hotel at a special rate. Rooms must be reserved no later than March 27, 2009. Visit the website for more information and check out the hotel online.
About IntertechPira
IntertechPira provides events, training, online information and publications across a wide range of niche commodities and disruptive technologies affecting industry. Our 100% independent products are provided globally 24/7 and delivered by teams of independent experts at sites in Portland, Maine, US and London, UK through 20 specialized industrial platforms. Our core competencies are information on: research and product development; globalization and new markets; production methods; regulatory and compliance.
###