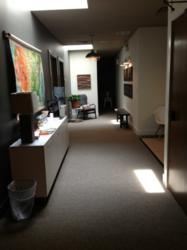 "We are absolutely thrilled to be a part of such a beautiful and vibrant neighborhood and to be able to make our counseling services even more convenient for its residents and neighbors." -Dr. Jamie Gayle
Chicago, IL (PRWEB) June 10, 2013
IntraSpectrum Counseling, a private group psychotherapy practice specializing in the LGBTQ population, is proud to announce the opening of a new office in the heart of the Andersonville neighborhood of Chicago. Since opening its doors in 2010, IntraSpectrum Counseling has experienced tremendous growth. The new office in Andersonville has a larger capacity than the downtown location, which is conveniently located across from Millennium Park in the loop, and will be able to better accommodate the growing demand for services.
Dr. Jamie Gayle, Founder and Director of IntraSpectrum Counseling, noticed a gap in counseling services in Andersonville and has been working to remedy that over the past year. Though Andersonville is one of Chicago's most LGBTQ-friendly neighborhoods, it does not offer any other private group counseling practices specifically focused on the LGBTQ population. IntraSpectrum Counseling is excited to be able to step in to fill this gap in service. Dr. Gayle states, "We are absolutely thrilled to be a part of such a beautiful and vibrant neighborhood and to be able to make our counseling services even more convenient for its residents and neighbors."
About IntraSpectrum Counseling
IntraSpectrum Counseling is a private practice comprised of impressively educated, trained and devoted psychologists, social workers, and licensed clinical professional counselors, who provide individual, couples, group and family psychotherapy. All staff members have specialized training and experience in working with the LGBTQI population and provide sensitive, LGBTQI-affirmative treatment. Additionally, our team's inclusive approach offers the highest quality service to all clients, regardless of sexual orientation or gender identity—all are welcome.
The staff's distinguished educational backgrounds enable the practice to offer multiple areas of expertise, including depression and bipolar disorders, anxiety disorders, eating disorders and body image, addiction and self-harm, trauma recovery, relationships and intimacy, and sexual functioning. Our specially designed therapy spaces in Downtown Chicago and Andersonville cater to our clients' experience so that they feel comfortable, safe and at home as they do the brave work of therapy. Upon entering our boutique counseling practice, clients can be confident that they will be matched with the therapist who best meets their particular needs and that their treatment will be specifically tailored to their evolving ambitions, every step of the way.
To learn more, please contact:
Angela Shuey, MA, LCPC
Intake Coordinator & Staff Therapist
(p) 773-750-3505
intake(at)intraspectrum-chicago(dot)com
http://www.intraspectrum-chicago.com
Related Links:
http://www.intraspectrum-chicago.com
twitter.com/IntraSpectrum
facebook.com/intraspectrumcounseling