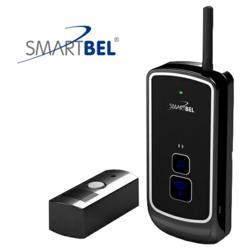 When the doorbell is presses Smartbel dials the landline or mobile telephone number that the user has programmed into the device. The user is then connected to the Smartbel allowing them to verbally communicate with their visitor
(PRWEB UK) 12 March 2013
Intruderalarmpanels.co.uk, retailers of burglar and intruder alarm systems, have added the Smartbel intelligent doorbell to their product range. The intelligent doorbell holds many advantages in the world of home security as well as reducing time wasting and frustrating circumstances.
The Smartbel, designed by 13 year old Lawrence Rook, was designed to help its user to never miss a delivery again. It wasn't until the development stages that Lawrence became aware of its potential as a security device.
When the doorbell is pressed Smartbel dials the landline or mobile telephone number that the user has programmed into the device. The user is then connected to the Smartbel allowing them to verbally communicate with their visitor. With Smartbel the advantages are many; this unique product means that the user never has to miss a visitor again, whether they are in the garden, in a room where a regular doorbell can't be heard or even away from the property all together.
As well as helping its user avoid missed visitors, the Smartbel also boasts a number of security benefits. Vulnerable occupants such as the elderly or infirm can screen their visitors, allowing them to open the door with the confidence of knowing who is waiting on the other side and, with opportunist thieves often ringing the doorbell before attempting to gain entry, the ability to answer callers remotely means the user can create the illusion the property is occupied when it is in fact empty.
Intruder Alarm Panels are happy that they are able to offer such a product to their customers. A spokesperson for intruder alarm panels says, "I'm forever missing deliveries because I haven't heard the doorbell or because I am out and about. The Smartbel means I never have to miss a delivery again. Not only this but my family can answer the door with the confidence of knowing who will be waiting on the other side. It's for these reasons I think everybody should have one and that's why we've decided to sell them on our site."
About Intruder Alarm Panels
Intruder Alarm Panels is a trading name of Discount Fire Supplies Ltd. With security and fire systems being so closely related, intruderalarmpanels.co.uk was launched in 2011 to complement the fire alarms and emergency safety products sold by discountfiresupplies.co.uk.