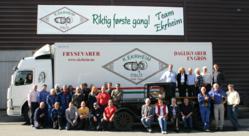 Over the last three years, K. Ekrheim has reduced inventory 14 percent, improved turns by 3 to 24.6, and increased profits by 181 percent.
Atlanta, Georgia (PRWEB) March 05, 2013
Leading SaaS demand forecasting, planning, analytics and replenishment provider Blue Ridge announced today that Norwegian food wholesaler K. Ekrheim has reported significant yearly profit increases and inventory reductions since implementing the Blue Ridge inventory optimization solutions. Over the last three years, K. Ekrheim has reduced inventory 14 percent, improved turns by 3 to 24.6, and increased profits by 181 percent.
Three years ago the food wholesaler faced fading cash flow amidst a declining economy and needed to transform their bottom line. K. Ekrheim selected Blue Ridge to help reduce inventory, improve cash flow and increase customer service levels at the same time. The company implemented the solution in just 90 days and immediately began to shed inventory and free up cash.
Since 2009, K. Ekrheim has reported exceptional performance improvements, while delivering higher fill rates to customers. Specifically, service levels have improved from 97 to 98.4, while supporting a 12% increase in revenue and increasing cash flow by 300 percent.
According to managing director Haakon Ekrheim, inaccurate forecasts were a big part of the problem. "Before Blue Ridge we might as well have had no demand forecasting at all," Ekrheim stated. "When the replenishment team was in doubt, they just bought more inventory."
The partnership between Blue Ridge and K. Ekrheim has created a strong drive by both companies to out-innovate and outperform the market, and Blue Ridge leaders expect to see more positive results from the food wholesaler in the future. Blue Ridge CEO Greg White commented, "The significant financial and operational improvements that Haakon and his team achieved was a herculean task." White continued, "They have completely transformed their company, and we are proud to be in partnership with a company so motivated to fully leverage the tools at their disposal, and we expect to see more game-changing results going forward."
About Blue Ridge
Blue Ridge leads the way in enterprise-class Software-as-a-Service supply chain solutions. Blue Ridge solutions and services turn inventory investments into cash flow and revenue generation opportunities. The company's robust cloud-based solutions deliver a tightly-integrated, yet flexible architecture for demand analytics, forecasting, planning, replenishment, SKU rationalization and other demand-driven optimization solutions to provide a sound foundation on which companies can solidify and enhance their supply chain initiatives. To find out why global supply chain leaders such as CVS, Home Hardware, Burris Logistics, CRP Industries, Europris, K. Ekrheim, Martin Brothers and Procurator trust Blue Ridge's unmatched solutions and expertise as their inventory alignment partner, visit http://www.blueridgeinventory.com.
About K. Ekrheim
K. Ekrheim is an independent grocery wholesaler with specialties in supplying the midsize and smaller shops. They serve grocery stores, convenience stores, independent and chain affiliated stores. K. Ekrheim operates a professional and efficient logistics system where customers are placed at the center. That means quality customer service and follow-up with options for customization and local adaptation. K. Ekrheim's task is to make it easier for you to run a quality and profitable shop locally, so you can once again focus fully on your customers. For more information visit, http://www.ekrheim.no/.