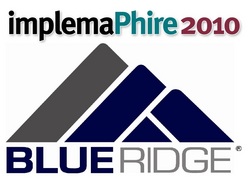 We found an ideal partner in Implema
Marietta, GA (Vocus) September 15, 2010
Blue Ridge, a global leader in profit-driven forecasting and inventory replenishment solutions, announced today that a partnership with Implema AB has been unveiled at ImplemaPhire 2010 in Stockholm, Sweden.
Implema now offers CLARITY Replenish and other Blue Ridge solutions including a SaaS delivery option, a first for inventory replenishment solutions in the Swedish market. The solution is directly targeted to small and medium wholesale and retail companies in Sweden. "We found an ideal partner in Implema," states Greg White, CEO of Blue Ridge, "They offer solutions to mid-sized companies in Sweden with the same philosophy of low-risk, high ROI offerings that we've always believed in."
The companies individually bring decades of experience in offering supply chain and enterprise solutions to the marketplace. Their teams have brought success to dozens of companies in the wholesale distribution and retail world. Implema anticipates that they will quickly begin to deliver solutions to companies underserved or overlooked in the Swedish market. "Smaller distributors and retailers have the same complex needs as larger enterprises, but often the solutions available to them are too expensive, too general or too limited to serve them well," Jorgen Aronsson, CEO Implema AB continues, "The Blue Ridge SaaS inventory solution provides industry-focused tools at a cost that fits most any budget."
The Blue Ridge CLARITY Suite offers inventory replenishment, freight optimization, SKU rationalization and other solutions that help distributors and retailers gain control over service levels, see dramatic inventory reductions, lower logistics costs and free up cash to fuel business growth and management initiatives.
About Implema
Implema is a company focusing on improving its customer's processes within purchasing, sales, financials, logistics, production, business intelligence and integration. The company was founded in 1998 with a clear vision; to make SAP available to small and midsize customers within trade and manufacturing. Implema today has around 90 employees and five offices in Sweden. During the years Implema has built a unique competence in delivering measurable value through focused projects on time and on budget with SAP as the tool. Now The Blue Ridge CLARITY Suite is also a part of the solution portfolio through cooperation with Inventory Investment and Blue Ridge. Visit Implema on the Web at: http://www.implema.se
About Blue Ridge
Blue Ridge is the leader in next-generation inventory and demand planning solutions. Our global team believes in the philosophy that selling generates revenue, but managing your inventory right generates profit. The Blue Ridge vision is to for our inventory replenishment and other solutions to provide an Income Statement BreakThrough™ by adding one-half to one full point to the bottom-line of every distribution and retail organization. Over 125 customers worldwide take advantage of our software and education offerings to manage their inventory as an investment that increases cash flow and drives strategic initiatives. The Blue Ridge suite of products implement easily to replace or augment a company's current Demand Forecasting, Replenishment or DRP solutions. Our advanced solutions improve inventory management using profit-driven functionality along with today's leading technology. For more information, visit Blue Ridge on the Web at: http://www.brinv.com
CONTACT:
Greg White
Blue Ridge Inventory Group
+1-404-214-0856
http://www.brinv.com
# # #