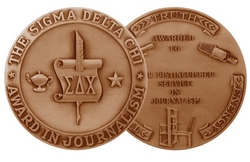 We are extremely honored by SPJ's recognition of this project and believe it is a great reminder that original newspaper reporting remains an important staple of American life even in tough economic times
Washington, DC (Vocus) April 13, 2009
The Washington Times has won one of journalism's highest honors - the Society of Professional Journalists Public Service Award - for its investigative series entitled "Disposable Heroes" that disclosed the unethical treatment of war veterans during a Veterans Affairs medical experiment.
The newspaper's 10-part series, led by reporter Audrey Hudson starting last June, prompted letters of outrage from then-presidential candidate Barack Obama and members of Congress, full-scale congressional and Bush administration investigations, a House veterans committee hearing, apologies and ultimately, sweeping changes inside the VA medical system.
The series included a gripping account of the plight of returning Iraq War veteran James Elliott, a Post-Traumatic Stress Disorder patient, who engaged in a near lethal confrontation with police after suffering a psychotic episode. At the time, the VA was treating Elliott with an anti-smoking drug known to cause such side effects.
The series exposed significant ethical lapses inside the VA's medical experiments involving the informed consent of patients, careful monitoring of side effects and other important safeguards. The agency continues to investigate whether employees should be punished for the lapses.
"We are extremely honored by SPJ's recognition of this project and believe it is a great reminder that original newspaper reporting remains an important staple of American life even in tough economic times," Executive Editor John Solomon said. "We also know the biggest prize of all comes in knowing that our war heroes and veterans enrolled in future medical experiments at the VA will face much better safeguards than those in place when Mr. Elliott suffered his unfortunate incident."
To expand the reach of the project, The Times collaborated with ABC News and Investigative Correspondent Brian Ross to create a companion piece on Good Morning America the morning the original investigative expose was published in the newspaper. It also created original video and Web packages that attracted millions of viewers on the newly redesigned washingtontimes.com Web site.
"This project was really groundbreaking inside our newsroom because it was our first effort at four-dimensional, interactive journalism - creating elements for print, TV, radio and the Web to reach the widest possible audience," Solomon said. "We very much appreciate Brian's great work in ensuring that the audiences who watch ABC also were told this important story."
The SPJ judges recognized Hudson's dogged reporting effort over several months, including a review of more than 500 clinical trials, as she recounted Mr. Elliott's tragic experience, interviewed VA doctors and administrators and forced into the public light internal VA documents that verified the lapses.
Photographer Rod Lamkey, Jr., shot photos of Mr. Elliott that poignantly captured the despair of an Iraq war veteran who was let down by the very agency that was supposed to treat his illness. Mr. Elliott declared that he felt like a "disposable hero."
Christian Fuchs, the first ever multimedia editor at The Washington Times, shot extensive video that brought readers inside the near fatal confrontation Mr. Elliott had with police during his psychotic episode and the struggles the veteran experienced afterwards while recovering.
Current Multimedia Editor Alex Wilson put together an elaborate Flash interactive that tied the entire project together for Web users and kept them up to date on every twist and turn of the story over eight months.
Attached are links to the entire series.
http://video1.washingtontimes.com/video/chantix/
About The Washington Times
The Washington Times LLC was founded in 1982 as a general interest, full-service daily newspaper providing an independent voice in the nation's capital, and has expanded its products and content distribution as a multimedia company reaching its readers through various media platforms. The Washington Times is one of the most-often-quoted newspapers in the U.S. with a reputation for hard-hitting investigative reporting and thorough coverage of politics, policy and culture. The washingtontimes.com web site includes all of the original content from the daily printed newspaper plus original content produced for online users in print, audio, visual and interactive formats, and is one of the leading news web sites in the country.
###