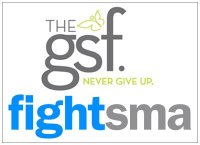 Seeing this well-trained, engaged young demographic generating such a creative output augurs well for the future of SMA research.
Washington, D.C. (PRWEB) April 12, 2013
Two organizations dedicated to defeating the childhood neuromuscular disorder spinal muscular atrophy (SMA) announced today five winners of the "FightSMA and Gwendolyn Strong Foundation Emerging Investigator Awards."
The awards, conceived jointly by the two organizations, are designed to draw strong, innovative talent into SMA research, according to FightSMA Chair Mike Calise. The winners were chosen from a field of promising young investigators ranging from recent PhD graduates engaged in post-doctoral fellowships up to assistant professors within the first two years of their appointment.
"We're thrilled with the response from the SMA research community to the Emerging Investigator Awards program," said Bill Strong, co-founder of the Gwendolyn Strong Foundation. "Our goal was to encourage and support new approaches to SMA research, and we're inspired by the quantity, quality, and breadth of grant applications received from nearly every major SMA research institution. We're extremely proud of these five initial grantees, and we can't wait to see their work take shape."
The five winners were announced at the annual FightSMA research conference held April 11-12, 2013 in Washington, D.C. They are:

Dr. Lyndsay Murray of Ottawa Hospital Research Institute
Dr. Steven Crone of Cincinnati Children's Hospital Medical Center
Dr. Hansjorg Rindt of University of Missouri
Dr. Kevin Foust of the Ohio State University
Dr. Constantin van Outryve of Johns Hopkins University
"The selection committee was struck by the large number of impressive proposals," said Dr. Alex MacKenzie, FightSMA Scientific Advisory Committee Co-Chair and Professor of Pediatrics at University of Ottawa/Children's Hospital of Eastern Ontario Research Institute. "Seeing this well-trained, engaged young demographic generating such a creative output augurs well for the future of SMA research."
FightSMA (http://www.fightsma.org ) is a 22-year-old nonprofit organization dedicated to finding a treatment for spinal muscular atrophy (SMA), the leading genetic cause of infant death. The group has awarded research grants at more than 40 universities and research institutions in five countries.
The Gwendolyn Strong Foundation (http://www.thegsf.org) is an all-volunteer, nonprofit organization dedicated to increasing global awareness of spinal muscular atrophy (SMA), accelerating research, and supporting families impacted by SMA and other life-altering conditions. The GSF motto: "Never Give Up."
For more information, contact: joe(dot)slay(at)slaycommunications(dot)com.