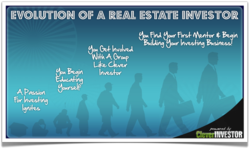 Anyone can be successful investing in real estate if they follow the strategies outlined in our personalized, focused training sessions. - Cody Sperber
Phoenix, AZ (PRWEB) August 22, 2012
Even though the housing conditions in many areas are less than optimal as home prices continue to rise, Cody Sperber and his team of experts at Clever Investor know how to train investors to be successful investing in real estate even the toughest markets. Their exclusive, high-end real estate mastermind group is a magnet for genius real estate investment experts. Members of the high-end real estate investment mastermind group through Clever Investor have access to highly specialized, insider information meant to catapult those who are serious about investing in real estate to the top of the curve when it comes to profitability. Managing all risk associated with real estate investment is achieved through the unique and practical real estate investment training courses customized for any market condition. Clever Investor understands the power of knowledge and has the most updated, proven techniques to share so that all potential real estate investors will benefit by boosting investment profit margins.
It is no secret that relevant real estate news has caught the attention of many Americans. Home prices continues to be on the rise through May of 2012, according to the Home Price Indices report published by Case-Shiller. In addition CoreLogic reported that there were 60,000 completed foreclosures in June of 2012 as compared to 80,000 in June of 2011.
Morgan Stanley researchers report the following; "The shadow inventory of homes likely to be sold after foreclosure declined by 35% since the peak reached two years ago, There are roughly 5.65 million properties in this backlog now, down from 8.79 million at the beginning of 2010. These homes are either already foreclosed and not yet for sale, or they back delinquent mortgages that will likely need to be liquidated. The weight of these properties drags down home prices and resists recovery in the hardest hit areas."
In lieu of the housing crisis the federal government has drastically reduced interest rates for an undetermined period of time. Housing wire reporter had this to say concerning the reduced federal interest rates: "The Federal Open Market Committee said it will keep interest rates low at least through 2014 but will not yet act on further stimulus to a slow-growing economy…. The target rate of funds will remain between 0% and 0.25% for the next two years, unchanged since the Fed lowered it coming out of the financial crisis in 2008."
To further understand how this information affects the world of real estate investment contact Cody Sperber and his team of high-end real estate investment experts at 888-480-6617. Or email a Clever Investor team member at support(at)cleverinvestor(dot)com. Visit the website at http://www.cleverinvestor.com to learn more about investing in real estate.