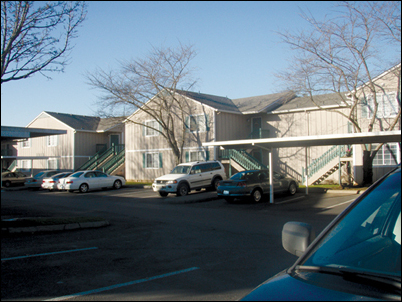 Portland, OR (PRWEB) July 10, 2007
The real estate investment firm of Hagerman, Frick O'Brien (HFO), LLC recently arranged sale of the 200-unit Bridgecreek Terrace Apartments located in Vancouver, Washington.
The Bridgecreek Terrace Apartments, located at 2220 NE Bridgecreek Avenue in Vancouver, has sold for $13,150,000. This multifamily project, built in 1989, consists of (42) 1-bedroom 1-bath units of approx. 722 square feet; (153) 2-bedroom 2-bath units of approx. 927 sq. ft.; and (5) 2-bedroom 2-bath townhouse style apartments of approx. 949 sq. ft. The sale represented $74.64 per square foot or $65,750 per unit, a CAP rate of 5.80% and a GIM of 8.27. Rents ranged from $550-$680. Brokers Cody Hagerman, Greg Frick and Timothy O'Brien handled the transaction.
About HFO
HFO specializes in the sale of apartment properties throughout Oregon and Washington. Using cutting edge resources, HFO helps clients maximize their real estate investments. They offer national reach with an insider's knowledge of the local market. It is HFO's mission to create wealth for its clients by providing extraordinary service, forging mutually beneficial, long-term relationships. Learn more at HFO Investment Real Estate Apartment Brokers Serving Investors in Oregon and Washington.
###