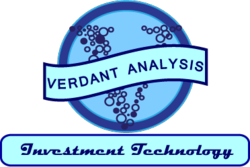 Because we designed this technology to operate in the cloud, we keep our prices the lowest in the industry.
Canada (PRWEB) March 28, 2013
Verdant Analysis, developer of cloud-based financial modeling and investment analysis software will launch its Verdasis Marketplace on April 23, 2013.
The Verdasis technology liberates users from stand-alone terminals and license fees and enables anyone to investigate publicly traded securities quickly and easily. The flexible payment model allows users to buy only what they need or to subscribe for full-access at a low monthly fee. The basic service, available now, is free.
On April 23rd, 2013, Verdant Analysis will begin rolling out the Verdasis Marketplace, a platform to allow users to buy and sell portfolios, analysis models and financial models. The roll-out will begin with portfolios.
Verdant Analysis' basic service lets users build portfolios of U.S. and Canadian publicly traded securities and to analyze them using analysis templates. The templates are built by the user and can contain an unlimited number of financial statement line items.
When the template is applied to the portfolio, the user exports the results to excel or Google docs and then builds financial ratios, regressions and equations.
After portfolios, the company will release Analysis Models. Analysis Models are similar to the Templates in that they produce financial ratios, regressions and equations. However, where the user must build Analysis Templates themselves, Analysis Models are pre or custom built, and they supply the final result without specifying line items or performing mathematical operations on a spreadsheet.
Financial Models are composed of multiple Analysis Models and will be released concurrently.
"We let users to build sophisticated investment models and apply them to multiple securities at once," says Jennifer Cameron, CEO. "The Verdasis Marketplace will accelerate the process of financial analysis, stock screening and financial modeling. Because we designed this technology to operate in the cloud, we keep our prices the lowest in the industry."
The first iteration of the Verdasis Marketplace will permit users to buy Portfolios, Analysis Models and Financial Models. Eventually the company will open up the marketplace for users to sell their portfolios and models.
"We envision a true marketplace that brings together many buyers and sellers," says Cameron. "We believe the creative insight of our users will make the Verdasis Marketplace truly dynamic and our fee-structure will make our company unique in an industry dominated by excessively expensive technology."
About Verdant Analysis (http://www.verdasis.com)
At Verdant Analysis we believe in a scientific approach to investment analysis. We enable our users to test investment hypotheses and to experiment using financial statement and market data.
Specifically, users can build financial models, ratios and regressions and apply them to portfolios of securities. This helps users perform financial or fundamental analysis more quickly and to screen securities according to the algorithms they've developed and to tweak their models as necessary.
Our mission is to help investors and financial professionals obtain superior insight into publicly-traded companies, with the outcome of improved investment decision making.