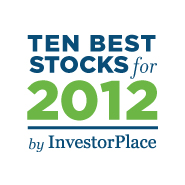 Rockville, MD (PRWEB) September 05, 2012
Shares of Capital One were up 34% year-to-date (YTD) as of the market close Aug. 31, keeping the stock at the top of the InvestorPlace.com 10 Best Stocks for 2012 buy list. The buy list is a free resource for individual investors and includes buy-and-hold recommendations from a group of money managers, market experts and financial journalists.
Capital One was recommended by Philip van Doorn, banking and finance analyst for TheStreet.com. Despite the stock being up almost five times as much as the Dow Jones Industrial Average YTD, van Doorn said he still considers the shares to be cheap.
"Capital One's shares have moved ahead nicely so far during a transformational 2012," van Doorn said. "The shares remain cheaply priced to forward earnings estimates, and with a strong capital base and hopefully a smooth second half to show the benefits from the two acquisitions [ING Direct and HSBC credit card portfolio], investors can look forward to a capital return through an increased dividend and/or share buybacks during 2013."
Turkish mobile giant Turkcell, recommended by Charles Sizemore, money manager and editor of The Sizemore Investment Letter, hung on to the No. 2 spot on the buy list with 26% YTD gains as of the market close Aug 31. The stock rose 7% in the month of August alone, outperforming the Dow (+0.6%), S&P 500 (+2%) and Nasdaq (+4%) for the month.
Other big gainers in August included MAKO Surgical Corp., up 29% for the month, and Banco Santander, up 18%. Yet these stocks remain on the bottom of the list, down 35% and 6%, respectively, YTD.
To view the complete list of the InvestorPlace.com 10 Best Stocks for 2012, visit: http://www.investorplace.com/best-stocks-for-2012/
About InvestorPlace.com
InvestorPlace.com is a leading financial news and investing site, providing millions of individual investors with access to free stock picks, mutual fund research, market news and sharp, actionable commentary. InvestorPlace Media is privately owned by Avista Capital Partners, with offices in Rockville, Md., just outside Washington, D.C.