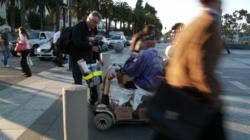 "Invisible People connects people to the face of homelessness in a direct and meaningful way that humanizes the subject and builds empathy in the viewer. This is much more important and impactful than simple awareness"
(PRWEB UK) 27 November 2012
The InvisiblePeople.tv project – the internationally recognized non-profit that tackles poverty and homelessness by using the power of social media – has returned to London teaming up with local charity Broadway. Mark Horvath, who once had a great career working in television syndication, yet ended up homeless in Hollywood, now works as a homeless activist, blogger and storyteller through his website invisiblepeople.tv, and will partner with Broadway London.
The idea of the partnership is to give the charity's homeless clients a way of speaking out about their lives. Mark was inspired to work with homeless people after spending time on the streets himself in Los Angeles and meeting fellow homeless people. He has since described their plight as "invisible".
"Invisible People connects people to the face of homelessness in a direct and meaningful way that humanizes the subject and builds empathy in the viewer. This is much more important and impactful than simple awareness" said Horvath. "As I have done across the United States and Canada, I want to give the people experiencing homelessness in England a chance to tell their stories. Once we know our neighbors it's not as easy to ignore them, and that's where real positive change starts"
Through December 4th, Mark will be running workshops for Broadway employees and clients. He will also be visiting the charity's services and lead a webinar for Homeless Link.
Howard Sinclair, Broadway CEO, said: "We are delighted to welcome Mark to the UK and to the team at Broadway. Everything we do at Broadway is geared towards offering homeless people not only a route away from the streets but also a voice to tell their story. Mark's visit will empower both us and them to tell their story."
Mark's airfare is sponsored by British Airways.
For more information about Broadway London, visit http://www.broadwaylondon.org
For more information on Invisible People, visit http://invisiblepeople.tv
About Broadway:
We're Broadway and we say no one should be homeless. We believe that with the right help at the right time every person can turn their life around, whatever their circumstances. At Broadway we support people to fulfill their potential; challenge them to take ownership of problems and inspire them to make changes in their lives. With services in over half of London's 32 boroughs, as well as a new service working with rough sleepers in Oxford, we go straight to the causes of homelessness; tackling poverty, ill health, unemployment and the chronic lack of housing. We assist people 'from street to home' and last year offered support to over 7,000 people at every stage of that journey including through preventative services such as housing advice and hosting the Mayor of London's flagship initiative, No Second Night Out (London).
About Mark Horvath
InvisiblePeople.tv is a grassroots nonprofit founded in 2008 by advocate Mark Horvath (@hardlynormal on Twitter). The organization is primarily self-funded, along with a $50,000 grant from the Pepsi Refresh Challenge in 2010. After building a successful career in television syndication, Mark found himself homeless in 1995 following a battle with addiction. He worked hard to clean up his act, and was again living comfortably by 2007 with a three-bedroom house and a 780 credit score. But then the recession hit. After several layoffs and a foreclosure, he was once again facing homelessness. That's when Mark launched InvisiblePeople.tv with just $45 and a budding interest in online social media.
Mark has been featured by the L.A. Times, CNN, CBS, Mashable.com and NPR. He's spoken at a number of conferences and events, including Geneva Forum on Social Change, Blog World, U.S Department of State's Tech@State, Gnomedex, 140 Character Conference, Nonprofit Technology Conference and SxSW. The Huffington Post named him one of 11 Twitter activists you should follow. YouTube gave InvisiblePeople.tv unprecedented exposure allowing Horvath to curate YouTube's homepage for a day. Mark was the first nonprofit to speak at Twitter, Inc. In 2011 Mark was commissioned by Canadian Government to travel to 24 Canadian cities and help champion the Canadian Alliance to End Homelessness. Mark has consulted for Los Angeles Police Department, City of San Francisco, and USC Annenberg School for Communication & Journalism among many others.