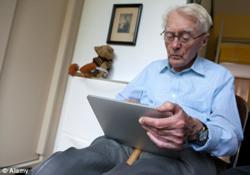 iPad Repair London Launches Discounts for Senior Citizens that Make iPad Repairs More Accessible
London, Greater London, Kent, Surrey, Essex, (PRWEB UK) 30 June 2013
iPad Repair London, the iPad Screen Repair Service for London have been supporting the cause of the Elderly by helping and making iPad Repair services more accessible and affordable for the elderly. iPad Repair London is giving all Senior Citizens claiming a pension a 15% Discount on all iPad Screen Repairs. The initiative is helping to demonstrate that the technology revolution is not just for kid. It's for their parents and even their grandparents. In one local nursing home in London, residents are getting a taste of wider access to the world around them using a handful of iPads.
With hundreds of thousands of apps, it's opening the eyes and the minds of older people who might think that technology has passed them by. Alfie Potter, 72, is playing hangman in the sports category on the iPad. He ives at a Senior Citizens nursing home in West London, where residents are becoming part of the iPad revolution. The staff started it off by showing around their personal iPads.
The iPad's intuitive interface makes it appealing to senior citizens around the world, says Takahiro Miura, a researcher at the University of Tokyo: "The iPad is a good tool for the elderly because it's very forgiving of mistakes." Miura's team uses computers to help train senior citizens to rejoin the workforce. "Unlike the PC, it doesn't require prior knowledge," he says.
Ryan Newman, Customer Service Manager at iPad Repair London points out that "we have a aging population, and more and more of the elderly are embracing technology like the iPad. We at iPad Repair London are providing a really useful and accessible service for the elderly. Anyone can drop and iPad and break the screen or anything else. However, for the elderly, our service has some unique benefits beyond the discount. The Senior Citizen does not have to step out of their home to get their iPads fixed, we come to their home, collect the iPad, repair it, and return it back to their home. It could not be more simple."
The Senior Citizens Discount for iPad Screen Repairs at iPad Repair London goes live from the 1 July 2013. To find out more please visit http://www.ipadrepairlondon.net or call 0207 100 1212. You can also Download a free iPad user Guide for the Elderly from the iPad Repair London website.
ABOUT US
Company: iPad Repair London
Telephone 0207 100 1212
Website: http://www.ipadrepairlondon.net
Email: info(at)ipadrepairlondon(dot)net
Address: 135 Goswell Road, London EC1V 7ET
iPad Repair London is the Number One iPad Repair Service in the UK. We specialise in iPad Screen Repair - and repair almost anything and everything when it comes to iPad Repair.