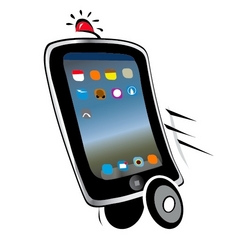 The iPad has a 9.7" sheet of glass on one side, which might make it even more prone to damage.
Olathe, KS (PRWEB) April 5, 2010
With the next frontier in mobile computing touching down in the form of Apple's iPad, the people at iResQ are ready to provide services for those unfortunate accidents that may occur when people get careless with the hottest new portable digital devices.
The new iPad repairs include services for a wide range of broken, malfunctioning or otherwise damaged parts, including:

free diagnostics (shipping not included)
broken glass/digitizer repair
LCD repair
headphone jack repair
battery repair
home button repair
dock connector repair
speaker repair
back case repair
"We've seen thousands of broken and damaged iPods, iPhones, and Apple laptops, so we expect to see the same thing for the iPad once people start using them," says Brian Buffington, General Manager at iResQ. "Due to the nature of mobile devices, they are always being carried around, which increases the chance for drop damage or mechanical failure. The iPad has a 9.7" sheet of glass on one side, which might make it even more prone to damage. We are proud to offer our iPad services to anyone unfortunate enough to require a repair."
There are many shipping options to get your iPad into iResQ's repair center, including a service where you can print out a prepaid, fully insured overnight shipping label directly after placing your repair order. Another shipping option includes a box specifically designed for iPad shipping, so customers don't have to worry about finding their own shipping box.
The Apple iPad is a natural fit in a service line that provides 24-hr. repair of Apple iPods, iPhones, MacBooks and Desktop computers. Customers can easily order an iPad repair and view all shipping options via iResQ's secure website.
As always, due to high freight volume, iResQ shipping prices are a fraction of published rates. Customers can take advantage of low rates, or ship portable devices on their own if they prefer.
About iResQ
Centrally located in Olathe, Kansas, iResQ is an Apple-Authorized Service Provider that repairs Apple computers and portable devices in addition to the Sony PlayStation Portable. Servicing Apple products since 1994, its team of technicians boasts years of experience and multiple Apple Certifications. 24-hr. diagnostics and repair service cover the entire line of iPods, iPhones, iPads, Portable Macs, and Mac Minis. This includes the entire PowerBook G4 family, the iBook family, plus the MacBook and MacBook Pro systems, as well as all versions of the iPod except the iPod Shuffle.
iResQ is also an ideal solution for schools and computer repair shops. Its repair depot can handle large numbers of repairs quickly and efficiently, and it provides volume discounts.
For more information or to order repair services, call 1-888-447-3728 or visit:
http://www.iresq.com
###