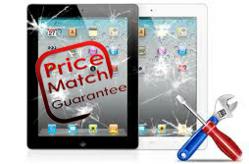 iPad Screen Repair Introduces Price Match Guarantee in the UK
London, Oxford, Birmingham, Cambridge, Reading (PRWEB UK) 28 June 2013
iPad Screen Repair, the National iPad Screen Repair Service today launches Price Match Guarantee for UK iPad Repair customers. Alan Spencer, Marketing Manager, explains, "We set highly competitive prices for all our products, with a dedicated team regularly checking them against other high street and online competitors. If a customer is able to find the same iPad Screen Repair Service, like for like, then we will match or beat the price. If a customer can provide evidence of a competing business with the exact same service at a lower price than ours then we will match it. As it's the online marketplace, prices can change by the day or even by the hour, so it has to be within a 24 hour time period."
Online service businesses are normally very hesitant to make such big promises. However, iPad Screen Repair is really passionate about their service, Alan Spencer explains why they are so confident: "We have been repairing iPad screens since day one. We are the only iPad Repair Service in the UK that provides Original Screens with One Year Warranty, and no repair company has been able to match us for a like for like service."
If you are interested in finding out more about the iPad Screen Repair Price Promise Guarantee please visit the iPad Screen Repair website below or call 0207 100 1212.
About Us
Company: iPad Screen Repair
Telephone 0207 100 1212
Website: http://www.ipadscreenrepair.org.uk
Email: info(at)ipadscreenrepair(dot)oRG(dot)uk
Address: 137-149 Goswell Road, London EC1V 7ET, UK