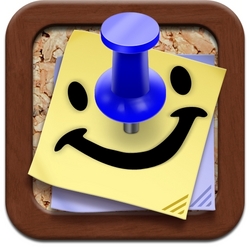 The iPad is an incredible device that merges the virtual and physical world and Corkulous harnesses this concept by making your ideas completely tangible.
Orem, UT (PRWEB) April 20, 2010
Appigo, Inc., a worldwide leader of high quality iPhone and iPad apps, introduces Corkulous™ idea board for the iPad, an app in which users can place visually collect, organize, and store ideas.
"Corkulous is a slight departure from our other productivity apps because it's very visually oriented," tells Calvin Gaisford, President and Co-founder, Appigo, Inc. "The iPad is an incredible device that merges the virtual and physical world and Corkulous harnesses this concept by making your ideas completely tangible."
Corkulous follows the metaphor of a cork board where users can arrange notes, labels, tasks, contacts, and photos to visualize ideas. Related ideas can be easily placed together and aligned using automatic guides which help to snap items into place. Also supported in the app are multiple boards. As ideas grow, users can create new boards and group related ideas in separate virtual spaces.
Suggested uses of Corkulous include the following:

Brainstorming Tool
Simple Mind Map
Project/Event/Vacation Planner
Reminder/Message Board
Simple To-do List
Vision Board
Goal Tracker
Exam Study Aid
... etc.
Today Corkulous fits very well in the personal productivity space. Over the next few months, Appigo plans to introduce features making app much more collaborative. Additional board items will be added for more expressive freedom. Users that have purchased the app will receive new features free as part of the standard updates.
After only just a few days of being released, Corkulous has gained positive reviews both on the App Store and from App Reviewers such as Jeff Scott of 148Apps.com who says, "Corkulous shows what seasoned application developers can do with a simple idea."
Appigo, founded in early 2008, has an established record for creating successful iPhone apps. At the inception of the iTunes App Store in July 2008, the company released Appigo Todo™, a fully featured to-do list application which they have now expanded to provide task synchronization with both iCal for Mac and Outlook for PC.
With the release of Corkulous for iPad, many Appigo customers have wondered about a version of Todo for the iPad. Engineers at Appigo are currently putting the finishing touches on a version of Todo for the iPad. The company focuses on the stability and quality of their apps and is confident that users of Todo will feel the app was well worth the wait.
Purchase Corkulous on the App Store
See Corkulous Features and Demo Video
Pricing and Availability:
Appigo Corkulous can be purchased directly on the iTunes App Store for an introductory price of $2.99 USD. Appigo plans to increase the price as significant features are added.
About Appigo:
Appigo, Inc., develops high quality applications for iPhone computing platform including Todo (powerful task management), Corkulous (ideas at your fingertips), Notebook (notes available everywhere), and AccuFuel (fuel efficiency tracker). With many years of experience in mobile computing, networking and user interface design, the Appigo team focuses on adding polish to its applications for a more enjoyable end-user experience. The products created by Appigo have quickly gained favorable reviews worldwide. For additional information about Appigo and their products, including full demonstration videos, please visit their website. Appigo, Corkulous, Appigo Todo, the respective app icons are trademarks of Appigo, Inc. Copyright 2008-2010, Appigo, Inc. All rights reserved. Apple, the Apple logo, iPod, iPod touch, and iTunes are trademarks of Apple Inc., registered in the U.S. and other countries. iPad and iPhone are trademarks of Apple Inc. App Store is a service mark of Apple Inc. Other company and product names may be trademarks of their respective owners.
Contact:
Boyd Timothy
Co-Founder
Appigo, Inc.
801-999-8636
###