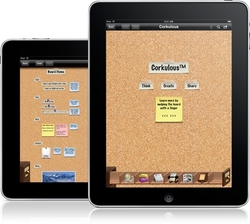 We're excited to see what kinds of new uses Corkulous board sharing brings to the iPad.
Orem, UT (PRWEB) September 28, 2010
Appigo, Inc., a worldwide leader of high quality iPhone and iPad apps, today announced the availability of Corkulous™ 1.6 idea board for the iPad app which allows users to visually collect, organize, and share ideas. The new Corkulous update makes it easy to share an entire idea board with others via email and also via iTunes File Sharing. Another feature of the update allows users to create board templates for reuse of frequent designs.
"Corkulous works extremely well on the iPad and we've been getting great reviews from customers," said Calvin Gaisford, Appigo's CEO. "We're excited to see what kinds of new uses Corkulous board sharing brings to the iPad."
Board sharing in Corkulous makes it possible select an entire board, just the current view, or even a selection of items from a board and send the result as an email attachment. When other users receive the board on their iPad, they can tap the attachment to import the board directly into Corkulous.
Shared boards can also be placed on any standard website and made available for download in Mobile Safari on the iPad. These boards can be downloaded directly into Corkulous for easy distribution. Boards can also be saved in the shared documents area which is available in iTunes File Sharing when a user's iPad is connected to their computer with a USB cable.
Corkulous' new board templates make it possible to design a board which can be reused for common uses. A university student can create a course notes template to save time each day when taking notes during a lecture. Using board templates, a photographer can set up a photo review board and easily create boards for different projects to help their clients visualize different photos.
Board sharing and templates can be combined for use in group workflows. A sales manager, for example, can set up a standard layout for customer accounts and share the template with their sales team on a team website.
These enhancements in Corkulous allow users to spend more time focusing on their creative ideas and less time figuring out how to share ideas with others. Appigo has several more innovative ideas they plan to implement in future updates of Corkulous.
Pricing & Availability:
Appigo Corkulous can be purchased directly on the iTunes App Store for $4.99 (US). Appigo plans to increase the price as additional features are added. Users who already own a copy of Corkulous will be able to download the update for free.
Media Kit:
A media kit is available on the company website and includes hi-res app icons and screenshots.
About Appigo:
Appigo, Inc., develops high quality applications for iPhone computing platform including Todo (powerful task management), Corkulous (ideas at your fingertips), Notebook (notes available everywhere), and AccuFuel (fuel efficiency tracker). With many years of experience in mobile computing, networking and user interface design, the Appigo team focuses on building applications that are enjoyable for end-users. The products created by Appigo have quickly gained favorable reviews worldwide. For additional information about Appigo and their products, including full demonstration videos, please visit their website.
Appigo, Corkulous, Appigo Todo, Appigo Todo for iPad, and the respective app icons are trademarks of Appigo, Inc. Appigo Todo and Appigo Todo for iPad contain Patent Pending technology. Copyright 2008-2010, Appigo, Inc. All rights reserved. Apple, the Apple logo, iPod, iPod touch, and iTunes are trademarks of Apple Inc., registered in the U.S. and other countries. iPad and iPhone are trademarks of Apple Inc. App Store is a service mark of Apple Inc. Other company and product names may be trademarks of their respective owners.
###