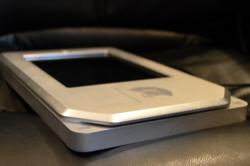 As more and more businesses around the world adopt the iPad as a Kiosk concept iPadKiosk.com stands to serve an ever growing market segment with the upmost attention to Function, Form and Quality.
Homestead, Florida (PRWEB) May 02, 2013
Designing a novel enclosure that presents the iPad beautifully while adding card present pci compliant data capture functionality is what separates our products from the rest of the pack. With deeply rooted payment acceptance technology parent company Spartadata has put together a ground breaking design that supports every iPad Gen from the very first model with 30 pin connector to the most recent retina 8pin based. This is one of the architecture features of the new iPad Kiosk Pro with Swiper. As with any kiosk connectivity and uptime are key requirements to ensure a properly executed design can serve true to its form dedicated kiosk. The Charging architecture is built into the PCI compliant Swiper Module which then connects directly to a cable that can be switched for ether 30 pin termination or 8 pin termination thus supporting the entire iPad lineup. Customers can appreciate this flexibility allowing them to easily use what iPad they already have and simply enclosing it using the Pro Enclosure lineup.
The Premium Enclosure uses a uni-body design architecture. The process begins with a Solid Billet Slab of Premium Aluminum Alloy which then undergoes the milling or carving of the uni-body construction of the patent pending design. This technique is used in many high end fabrication types including Apples' own Mac Book Pro Lineup. After the Parts are milled a series of special finishing techniques are used including a chemically treated bath that permanently strengthens and tones the color to spec on the aluminum alloy for a unique metallic finish. The Pro lineup also uses special diamond cutter technology to achieve a duo surface finish look using a matte finish and a polished bevel finish that shines. The final product is presented in a unique magnet based product packaging with the Spartan Logo hinting at the beautifully executed enclosure within. 
Onyx, Gold and Silver will be the three main color options at launch and will include premium options like Brand delete and White Label opportunities for those looking to brand and customize the enclosures to fit a certain look and feel. Color, finish and logo options are endless and can be produced to spec.
As an open source integrator iPadKiosk.com allows anyone to easily tap into the SDK to easily harness the Card reader functionality and build it into ones own app. Adding Card Present capabilities to an app introduces a wide range of possibilities from loyalty program building to payment acceptance and beyond. The PCI Mag stripe reader is Bi-directional and can read up to three tracks of data. Various encryption types are supported through the SDK which is available for free here: http://www.ipadkiosk.com/sdk/
So it looks great and fits great with any iPad how does it keep the iPad Secure?  Using the same material used to build the iPad itself including the finish technique and color to match ensures a solid and rigid foundation for a secure enclosure. Special security hardware is included with each unit along with a matching bit key making the unit fully secured and tamper proof. Unlike plastic enclosure alternatives that can be easily broken into, the iPad Kiosk Pro lineup ensures the safe keeping of your iPad. 
Units start at $299 for the non swiper model and $399 for the Pro MSR model. Various VESA mounts and stands are sold as bundles and/or separately allowing for easy product pairing based on customer needs.
As more and more businesses around the world adopt the iPad as a Kiosk concept iPadKiosk.com stands to serve an ever growing market segment with the utmost attention to Function, Form and Quality. For more information and availability of the new iPad Kiosk Pro with Swiper go to: http://www.ipadkiosk.com
Apple, the Apple logo, iPad, and iTunes are trademarks of Apple Inc., registered in the U.S. and other countries. iPhone is a trademark of Apple Inc. All other trademarks are the property of their respective owners.