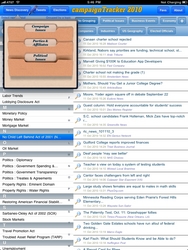 This iPad version was particularly challenging to get right, as I wanted to provide a full and robust interface while keeping the overall experience fluid and fun for the user.
Austin, TX (PRWEB) October 26, 2010
pTracker LLC, an App Store developer with access to Llesiant's advanced news discovery engine, has released an iPad-optimized version of its newest app, campaignTracker 2010. This app introduces unique, innovative features, such as Visual News Grouping and tweet stream Multi-Mode, to take full advantage of the iPad's screen and interaction capabilities. Now the app's core political and campaign issue news discovery features, as well as the elected official and candidate Twitter feed reading, are even easier and more fun to use. The mid-term elections just got easier to keep up with, with the launch of campaignTracker 2010 for iPad.
This newest addition to the Apple App Store offers users a visually compelling way to cross-search highly relevant news results, with just one tap, to create topic-specific groups. The ability to instantly group news on a second search topic is a uniquely powerful feature, that leads to user's "Aha!" moments as they discover links between the topics they were not aware of. While all pTracker News Discovery apps deliver this time-saving and knowledge-expanding technology to their users, campaignTracker 2010 for iPad is the first to do so in such a graphical manner.
The Twitter feed section of the app introduces a novel concept in tweet-reading: Multi-Mode Feeds. Users can construct ad-hoc aggregate feeds by combining 2 or more streams into one, for a unique view and comparison of any number of Twitter user's postings. The app does not require that the user have a Twitter account, nor that they spend time searching for politician's and candidate's twitter handles. Instead, the app loads a list, maintained by pTracker LLC, of all known politicians and candidates who are using Twitter, currently over 500 elected officials and 100 candidates. However, the user can also add any other Twitter feeds they want to keep up with or co-mingle with a politician's tweets. Multi-Mode Feeds is but one of the innovations found in campaignTracker 2010 for iPad.
"I developed these apps keeping in mind people deeply entrenched or interested in the political scene, such as concerned citizens, reporters, bloggers, consultants, and lobbyists. My hope is to lessen the stress of keeping up with the issues during campaign season." said Erwin Mazariegos, founder of pTracker LLC. "This iPad version was particularly challenging to get right, as I wanted to provide a full and robust interface while keeping the overall experience fluid and fun for the user."
pTracker's other apps have done well in the app store, but Mr. Mazariegos is particularly excited about this release: "I anticipate that this app will become the go-to tool for professionals on tight deadlines, and I hope its time-saving nature will resonate with all iPad-carrying voters who find themselves constantly on the go, with little time to explore issues that matter to them."
For comprehensive non-partisan election data, the app also interfaces with Project Vote Smart, a not-for-profit group whose mission is to arm voters with up to date nationwide election information, known as the "Voter Self-Defense System". (Visit http://www.votesmart.org for more information.)
The pTracker Political Suite is now complete, and consists of these iPhone/iPod Touch apps: "politicoTracker", "govTracker", "campaignTracker 2010", and "politicoTracker Twitter Edition"; and these iPad apps: "politicoTracker for iPad", "govTracker for iPad", and now, "campaignTracker 2010 for iPad". All are available now at the Apple App Store (search on "pTracker").
For more information about pTracker, LLC, visit pTracker, LLC. For more app screenshots and a free sample search, visit campaignTracker 2010's Web Site
###