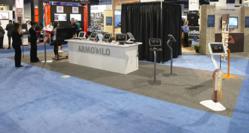 We're not only excited by the amount of interest in our tablet display solutions for retail and corporate environments but thrilled to be noted as part of the #1 Digital Display Tends at DSE 2013
Waterloo, Ontario (PRWEB) March 11, 2013
Digital Signage Expo was a huge success by almost every measure, attendance records were at an all time high and a variety of new products were on display including Armodilo Display Solution's premium iPad Kiosk / Tablet Display Stands. Armodilo had great interest during the show in it's 10 x 30' booth at the Las Vegas Convention Centre from February 27 - 28, 2013.
"We're not only excited by the amount of interest in our tablet display solutions for retail and corporate environments but thrilled to be noted as part of the #1 Digital Display Trend at DSE 2013 as published by The Digital Signage Connection. It's fantastic to see smaller, personalized interactive experiences such as our tablet display solutions seeing such a great amount of traction at one of the world's biggest digital signage shows", says Iles Guran, Founder & President.
"Tablet display stands / solutions create an easy to integrate, cost effective, and interactive opportunity where customers can have a more personalized and private chance for engagement which is extremely useful for active environments", Adds Guran. "Consumers are already comfortable with iPads and other tablets and at a lot of retail locations, customers prefer using a device that offers a little more privacy than a large videowall."
Armodilo Tablet Display Solutions work with a wide variety of tablet devices including iPads®, Android® and now Windows® based tablets thanks to it's patent-pending Tablet Fit-Kit™ to offer multi-tablet support, which is perfect for large deployments where tablets can easily be switched as required. Simply switch the Tablet Fit-Kit to easily change tablet devices.
Additional information on the multi-award winning Armodilo products and accessories can be found at http://www.armodilo.com
About Armodilo Display Solutions
Armodilo Display Solutions is a multiple award-winning tablet display manufacturer located in Ontario, Canada. With a variety of tablet display stands and accessories for trade show, event, retail and corporate markets, Armodilo sets itself apart by creating highly refined products for discerning brands around the world.
For more information about Armodilo, contact:
Iles Guran Founder & President at Armodilo Display Solutions
sales(at)armodilo(dot)com / 1-800-975-5946