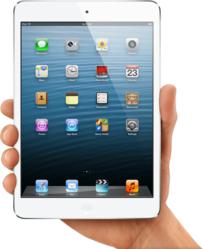 It's amazing, It does everything my normal ipad does and you can hold it in one hand
Norfolk, VA (PRWEB) November 08, 2012
Exchange USA, a secure military loans provider, has announced the addition of the Apple iPad Mini to its wide range of products available to the military consumer. Inventory is now available and the company is offering standard UPS shipping free to domestic orders now through the Thanksgiving Holiday
According to Apple, "the iPad mini offers a completely new iPad design that is 23% thinner and 53% lighter than the third generation iPad. The new iPad mini features a stunning 7.9-inch Multi-Touch display, FaceTime HD and iSight cameras, ultrafast wireless performance and an incredible 10 hours of battery life."
The iPad mini also comes with iOS 6, the world's most advanced mobile operating system with over 200 new features. "It's amazing, It does everything my normal ipad does and you can hold it in one hand." Stated Danielle Hofmann, Exchange USA, Sales Director.
The iPad mini is the perfect mix between a cell phone and an ipad. Its small, easy to carry, and offers everything the normal iPad does and more. While it's the least expensive iPad in a line up that includes the iPad 2 and the new fourth generation ipad, it still offers the same 16Gb, 32GB, and 64GB model along with wifi or 4G. Exchange USA is stocking all models to ensure solid availability to meet customer demant.
In addition to the iPad Mini, the company offers the entire Apple line-up, including the new iPad4, MacBook Pro, iMac and the iPhone. In addition Exchange USA has available a full product set including appliances, computers, electronics, furniture, jewelery, rims and tires, and offers military flight loans through Exchange USA Military Travel Services.
Company information
Exchange USA is based in the newly revamped East Beach Shopping Center at the corner of Shore Drive and East Little Creek Road. Offering consumer and military financing on lifestyle products and travel, Exchange USA was founded in 2009 and is has quickly become a local market leader. Located at 4039 E Little Creek Rd., the company can be reached at 757-695-3388 or through their website at http://www.myexchangestore.com