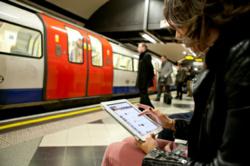 iPad Repair London comes to the rescue of Londoners who use their iPads in public and break them
London, City of London, Greater London, Central London, (PRWEB UK) 29 March 2013
The iPad Repair air service company iPad Repair London reports that for many people in London their iPad is their preferred second TV. Well, it seems iPad users are now n the majority. The hip new way of consuming TV for people in London - is on a tablet. Similar findings have been confirmed in the U.S. where Viacom polled Over 2,500 people nationwide, and the results showed a shift away from computers and smartphones to tablets (and most popularly iPads).
The increase use of iPad in public places and on journeys has also meant that more and more of them are being dropped and broken. iPad Repair London is the number one company repairing iPad's across the Greater London area, and they report that even an iPad with a tough case, when dropped on the wrong angle, often breaks the screen. Ryan Newman (Manager at iPad Repair London) says" We have had customers with military grade tough cases, that are waterproof and are supposed to withstand strong forces of a crash come in with a broken screen. We were completed shocked!" So it doesn't matter what type of cover you have on it, it's often a matter of luck.
Ryan Newman goes on to explain, that "Most Londoners are very busy people. They don't have time to walk up and down the high street, or spend a whole afternoon, trying to find a reputable company to repair their iPad. Londoners are often time poor. This is why we have made our service very easy and convenient. You don't have step out of your doorstep. If you call or even email us, we will come and collect your iPad from your home or work address, repair it, and return it to you at no extra charge. iPad collections and deliveries are free in most of London. Even more importantly, customers have the option to bring their iPads to our Central London Workshop and talk to a technician in person. So, we are not just an online business".
iPads are genuinely great products; otherwise they would not be so popular. Very few things go wrong with them. However, if you are like me, and you use your iPad to catch up TV during your journey into work, then be careful not to drop it. If you do, you know who to call.
iPad Repair London is the most reviewed and talked about iPad repair service in London. More information can be found at http://www.ipadrepairlondon.org.uk
About Us
iPad Repair London
Telephone: 020 3544 9930
Website: http://www.ipadrepairlondon.org.uk
Email: info(at)ipadrepairlondon(dot)co(dot)uk
Address: 137 Goswell Road, London, EC1V 7ET, UK
About Us: iPad Repair iPad Repair London is a Central London based iPad Screen Repair company. We provide same day iPad Screen Repair collection service in London completely FREE of charge. We reserve the right to charge in some areas. iPad Repair London is part of the Hello Techy family of tech repair businesses