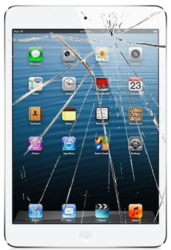 The iPad Screen Repair Service povided by ipdarepairservices.co.uk innovates to become the first UK company to launch Express Same Day iPad Mini Servcices
London, Birmingham, Leeds, Glasgow, Sheffield, (PRWEB UK) 30 March 2013
iPad Screen Repair also known as the company iPad Repair Services reports that Sales of the iPad Mini have outstripped all of Apple's expectations. The company expected to sell 40 million iPad Minis this year and 60 million iPads, but those figures look set to be 55 million for the iPad Mini and 30 million for the iPad.
The increased use of the iPad mini in public places and on journeys means more are being dropped and screens are being broken.
Ryan Newman (Manager at iPad Repair Services) said most Londoners are very busy and don't have the time to search for a reputable company if their iPad Mini is broken.
He added: "iPad Mini Screen Repair have fast express service available for those in a hurry and we also have a walk-in while you wait service in the Greater London area.
"Free collection and free delivery is also available throughout the UK and iPad Mini Screen Repair are the only UK Company to provide a one-year warranty on parts."
ABOUT US
Company: iPad Repair Services
Freephone 0800 033 7508
Telephone 020 3397 4232
Website: http://www.ipadrepairservices.co.uk
Email: info(at)ipadrepairservices(dot)co(dot)uk
Address: 137-149 Goswell Road, London EC1V 7ET, UK
iPad Repair Services (also known as iPad Screen Repair) is the UK's fastest growing iPad Screen Repair Service in the UK, We pride ourselves in providing high quality value for money service. No other service in the UK is able match us on our service - our confidence in our work shows through the fact that we the ONLY iPad Screen Repair service in the UK that offers 1 Year Warranty. The warranty we offer speaks volumes about the quality of our repair.