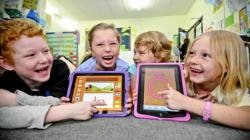 Expensive iPad repairs for Schools are now a thing of the past thanks to the iPad Screen Repair Company
London, Birmingham, Leeds, Glasgow, Leeds, Cardiff (PRWEB UK) 30 March 2013
iPad Screen Repair has launched an exciting bespoke iPad Repair Service for schools, colleges and universities. As the UK's No 1 iPad Screen Repair service, priding itself on its high level of workmanship and astonishingly low prices, currently educational facilities with three or more iPads can now receive a Free Account with no monthly fees.
Ryan Newman, Managing Director said, "Here at iPad Screen Repair we are passionate about education and the ever changing direction of resources that are available to schools and colleges. We felt that the costs involved of repairing a screen could make it difficult for some establishments, and therefore we have ensured our prices are competitive and manageable."
He continued "Apple has launched its own educational apps platform and the iPad is proving to be an essential part of any classroom, but breakages are inevitable and that is where we can help. With no minimum fee and strict timescale repairs, we work closely with our clients to ensure they and the students receive the service they deserve.
For further information please contact 0800 033 7508 or 0207 100 1212, if you are calling from a mobile. Or visit http://www.ipadscreenrepair.org.uk
About Us
Company: iPad Screen Repair
Telephone: 0800 033 7508 or 0207 100 1212
Website: http://www.ipadscreenrepair.org.uk
Email: info(at)ipadscreenrepair dot org. dot uk
Address: 137 -149 Goswell Road, London, EC1V 7ET, UK
About Us: iPad Screen Repair is the only company in the UK specialising in iPad support for schools and educational institutions.