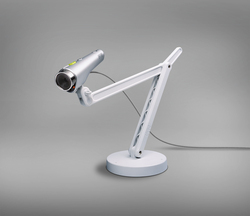 We were looking into building a new webcam and we looked into the fundamental behavior of video conferencing
San Jose, CA (PRWEB) November 2, 2009
IPEVO, Inc., an Internet-based technology company, has just announced the global commercial launch of its newest product - the Point to View, or P2V, USB Web Camera.
The Point to View Camera is designed to provide a limitless range of video capture and perspective options for the user. Borrowing from IPEVO's first web camera, the successful Point of View, or PoV, the P2V features a writing instrument-style body along with an ergonomic grip. This allows the user to grasp the camera itself for full, omnidirectional video capture functionality. Additionally, the P2V comes with a universal monitor clip. The P2V can be mounted to this clip and then attached to any standard laptop screen or computer monitor for a traditional video chat perspective.
Perhaps the most innovative perspective option for the P2V, however, is its unique stand. Featuring a weighted base and three movable joints, the P2V can be mounted to point in most any direction and angle, and at most any height. With the P2V, the user enjoys an unparalleled level of perspective customization.
"We were looking into building a new webcam and we looked into the fundamental behavior of video conferencing," explained Royce Hong, IPEVO's CEO and lead designer. "From my own experience from my video calls, we came to realize that what people want to share during video calls may not just be images of themselves, but their 'point of view' as well."
The Point to View is a 2 Megapixel camera, and features a macro mode for capturing subjects from as close as 2 inches away. Autofocus also comes standard on the camera, available either with the touch of a button or on a continual basis, depending on user needs and preference.
Also included with the P2V is an easy-to-use custom software application. Toggling between three distinct modes, users can take, refine, save, and organize snapshots from the camera. Users can also display the P2V's video in a full screen mode, which can be used as an alternative to digital projection for business presentations and other applications.
With maximum compatibility in mind, the P2V features a USB 2.0 UVC (universal video class) interface, and is fully plug-and-play for both PC and Mac. The P2V is also designed to operate seamlessly with a wide range of popular Instant Messaging applications, including Skype, Google Talk, Windows Live Messenger, iChat, Yahoo! Messenger, and AOL.
The IPEVO Point to View USB Web Camera is available for $69, exclusively through the company's online store at http://store.ipevo.com/.
About IPEVO
IPEVO designs and manufactures Internet-based devices that enhance the Internet experience. Renowned for its iconic line of best-selling VoIP hardware, IPEVO has established a reputation for developing award-winning designs and innovative products to help connect to, communicate with, and share the world around us. For more information, visit http://www.ipevo.com.
# # #