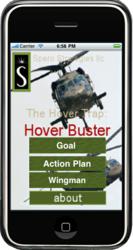 Spero's military themed iPhone App helps people reach their personal and career goals
Orange County, CA (Vocus/PRWEB) December 21, 2010
Spero Strategies' new iPhone app is based on a military theme using founder Ken Gryske's experience as a Blackhawk pilot. Simply put, the application helps users set and achieve personal and career goals. Adapt360's mobile app development team will initially launch the app for the iPhone, but Android, Blackberry and other smartphone platforms may follow. Adapt360's iPhone app developers will complete the project within a 7-week timeframe.
This app will guide the user through Spero's 4-step process:
(1) Record a goal
(2) Outline a step-by-step action plan
(3) Set timelines
(4) Communicate with a "Wingman"
The user first enters a personal or business-oriented goal and due date. The app then walks the user through the steps and due dates necessary to achieve the goal. As an example, the app would read: "To accomplish this goal, perform Step #1 by Date #1, then perform Steps 2, 3 and 4, respectively."
The user also inputs the email address and name of a "Wingman" tasked with keeping the user on track. Throughout the goal-achievement process, the Wingman is kept abreast of the user's progress toward the goal, and made aware of any setbacks.
"We're excited about the improvement this app can make in people's lives," said Ken Gryske. "The app actually walks people through the same set of steps that are identified in my book… making the book much more meaningful, and helping users stay on track to meet their goals."
The project began in mid-December and has a February release date. The app must be scoped out, developed, tested, and approved by Apple all within 7 weeks. Adapt360 has the resources to expedite the mobile application development cycle and meet Spero's deadline. Gryske adds, "I'm very impressed with Paul's team and their ability to make my project happen on such a compressed time table. Adapt360 employs the kind of people I like to work with: Experts who are Mission Driven."
"Spero's goal setting app is a fun project," said Paul Smith, President of Adapt360. "This is an app I'll definitely use. In fact, my family is having a weight loss competition in 2011. I'll be using the app to stay on course. With my wife as my 'Wingman', I'm sure to win."
About Adapt360
Adapt360 is a web programming and mobile/iPhone app development company serving corporate clients nationwide, with emphasis on Southern California. Projects typically include custom web applications, mobile/smartphone apps, database development/migration and custom e-commerce solutions. Web-based projects involve ASP.Net, PHP and Java programming with MySQL, MsSQL and PostGreSql databases. Mobile App development projects (http://www.adapt360.com/services/development/mobile-apps) include iPad, iPhone, Blackberry and Android application development. Expertise includes custom Enterprise Solutions (ERP), Content Management (CMS), Customer Relationship (CRM), Point of Sale, eCommerce/Online Shopping, Inventory Management Systems and Mobile Apps all working together.
About Spero Strategies
Spero Strategies llc was founded by Ken Gryske to help people find better jobs faster. Spero Strategies helps individuals and organizations unlock their Purpose, Vision, and Mission - Giving them a tangible and lasting competitive advantage. Ken is a Board member and Marketing & Communications Committee Chair for Professional Coaches, Mentors & Advisors and a member of International Coaches Federation, Orange County Chapter. He also serves on the Board of Directors for Community Health Charities of Arizona.
Press – http://www.adapt360.com
# # #