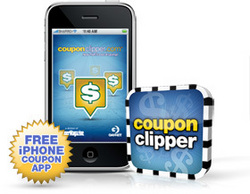 "Coupon Clipper app offers fast, free savings in consumers' most popular shopping categories"
Mountville, PA (PRWEB) March 2, 2010
Clipper Magazine has just launched a new, free savings app for the iPhone. The Coupon Clipper app literally puts the savings power of America's best local direct mail advertising in the palm of the mobile user's hand.
Designed specifically with consumers' hectic lifestyles in mind, the savings app provides instant coupons and an easy-to-use interface for maximum convenience. With Coupon Clipper App, users can access over 50,000 offers from businesses nationwide where they eat, shop and play. Built-in GPS allows users to quickly find local savings wherever they may be and to plot locations using Google Maps.
Clipper Magazine Co-Founder and COO Ian Ruzow asserts, "Coupon Clipper app offers fast, free savings in consumers' most popular shopping categories, including groceries from major manufacturers. It offers all the benefits of coupons without the need to plan ahead, clip, organize or keep track of expiration dates. It also allows consumers to enjoy savings while away from home."
The savings app makes finding relevant coupons simple. Users can locate coupons via city and state, auto locate or by favorites. Some featured search-by shopping categories include restaurants, health and beauty, medical and dental, retail, professional services and automotive services.
The application has great benefits for advertisers, as well. Ruzow comments, "The Coupon Clipper app provides a great opportunity for advertisers to 'interact' with hard-to-reach consumers who are constantly on the go. They also benefit from the extra exposure the app gives their offers and from being able to gauge the success of those offers with daily redemption reports." The application is powered by couponclipper.com, the on-line local coupon search site Clipper introduced last year.
Founded in 1983, Clipper Magazine has grown from a single local, four-page campus advertising publication to over 500 local direct mail editions in 31 states. Mailed seven times annually (and more in selected markets), Clipper Magazine reaches roughly 35 million American homes with full-color ads featuring money saving offers. In addition to couponclipper.com, Clipper Magazine operates subsidiaries including The Menu Company, Loyal Customer Club, Spencer Advertising & Marketing, Clipper Web Development, and Total Loyalty Solutions.
###