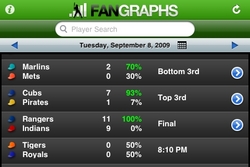 We knew we wanted to make the popular FanGraphs.com baseball stats available on the iPhone, but it was too time-consuming to develop iPhone expertise in-house. By partnering with Hawk Ridge Consulting we gained invaluable product and iPhone experience and built a great app for baseball fans
Reston, VA (PRWEB) September 25, 2009
Hawk Ridge Consulting has scored another iPhone hit with the launch of FanGraphs Baseball, a custom iPhone app featuring live baseball game and player statistics from the popular FanGraphs.com web site. The application is available now from the iTunes App Store for $2.99.
Hawk Ridge Consulting provides iPhone app services to companies that want to extend their brand to the growing iPhone and iPod touch markets, but don't want to invest in becoming iPhone experts themselves. Small to medium-size companies in particular often find it impractical to devote full-time resources to mobile development.
"FanGraphs.com has a popular website with a ton of great content that is ideal for the mobile market," says Hawk Ridge Consulting CEO, Julie McCool. "By partnering with Hawk Ridge Consulting, they get a quality iPhone app to market quickly and cost-effectively. We know how to make the most of the iPhone's unique features and how to shepherd apps from concept to launch in the App Store." 
"We knew we wanted to make the popular FanGraphs.com baseball stats available on the iPhone, but it was too time-consuming to develop iPhone expertise in-house. By partnering with Hawk Ridge Consulting we gained invaluable product and iPhone experience and built a great app for baseball fans," says FanGraphs.com founder David Appelman. "Hawk Ridge Consulting put together an expert team and led every phase of the iPhone app creation process including product planning, design, development, and testing."  
Previously, Hawk Ridge Consulting released the SnowGlobe Maker Winter Edition and SnowGlobe Maker Beach Edition apps, both available on the iTunes App Store for $.99 each. Inspired by Ms. McCool's time as an executive at AOL where she saw how people love to mix and match art to express their personality and passions, SnowGlobe Maker brings creativity, expression and family interaction together on the iPhone.
Hawk Ridge Consulting will be introducing additional custom apps, as well as updates to the SnowGlobe Maker app series, later this year.
About Hawk Ridge Consulting:
Hawk Ridge Consulting offers custom iPhone development services for every product phase from planning and design, to development and testing, to launch and marketing. Company founder, Julie McCool, applies a consumer-centric approach and practical management to the iPhone app market,  drawing on her 20 year career leading products at major software companies including AOL, Symantec, and Lotus. Hawk Ridge Consulting created the SnowGlobe Maker apps for iPhone and iPod touch, delivering family-friendly entertainment that encourages creativity and fun (learn more at SnowGlobeMaker.com.  
About Fangraphs:
FanGraphs.com, which has been online since 2005, is one of the Internet's premier websites for game and player analysis, in-depth stats, and baseball fan discussion forums. Sited by the New York Times, USA Today, Wall Street Journal, ESPN, Yahoo Sports, LA Times, and sports bloggers, FanGraphs.com and FanGraphs for iPhone delivers in-depth statistics on every MLB game since 1974, every major league player in history, and 16 minor leagues. FanGraphs.com offer in-depth statistics for the thinking baseball fan. 
###