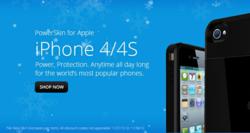 It's by far the best battery case I've used for the iPhone 4 to date"
Los Angeles, California (PRWEB) November 24, 2012
Sweepstakes Ninja is pleased to welcome XPAL Power as an online sweepstakes sponsor in its sweepstakes draws and giveaways. PowerSkin for Apple iPhone 4/4S, a product of XPAL Power, has agreed to sponsor a sweepstakes draw giveaway for Apple iPhone 4/4S battery life extenders. The PowerSkin line of products have been featured in CNet, Wired Magazine, Android Community, Mashable, PCWorld, NetworkWorld, Android Guys, plus much more.
PowerSkins are protective silicone cases with a built-in rechargeable battery. They extend the battery life in iPhones, while also providing a protective cover and a permanent power supply when you need it most. PowerSkins are made by XPAL Power, Inc. with the intention of providing products and services that allow people to enjoy life without worrying about power. PowerSkins are made with soft yet durable recycled silicone rubber. This creates a lightweight and form-fitting protective skin that includes a built-in rechargeable battery.
Within days of launching the Sweepstakes Ninja promotion, over 5,000 people have learned about their line of iPhone battery life extenders. Sweepstakes Ninja is promoting the PowerSkin line of products through partner newsletters, website forums, live video chats, and third party advertisements. Within days of launch, over 1000 individuals entered the sweepstakes. More than 5000 people learned about the PowerSkin products through Sweepstakes Ninja newsletters.
Contestants have a chance of winning an PowerSkin iPhone Battery Case. Individuals have been able to extend battery life from anywhere of 8 hours of battery life, to 200 of standy time.
The sweepstakes promotion officially runs until December 1st, 2012. It is a daily entry sweepstakes that consumers may enter to win. It is also a great Christmas present. To increase their chances of winning, the entrant may share sweepstakes links with friends, family, and through social media. This is a win-win situation for both XPAL PowerSkin and the entrant. Entrants increase their chances of winning award winning products, and more people learn about the PowerSkin line of products.
For more information about how Sweepstakes Ninja promotional marketing services deliver profits for companies, visit http://www.sweepstakesninja.com/site/company_sweepstakes/.
About SweepstakesNinja.com
SweepstakesNinja.com is the leading provider of fun and interactive sweepstakes. The company matches consumers with companies, in a fun and interactive manner. Consumers have the chance of winning amazing prizes. Companies benefit from daily exposure to their brands, word of mouth advertising, customer loyalty, and long term increases in profit. Visit http://www.sweepstakesninja.com/ for more details.